Gaddafi's son: In 48 hours everything will be over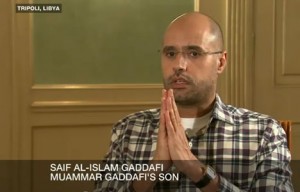 Libyan leader Muammar Gaddafi's son has said forces loyal to his father are nearing the rebel stronghold of Benghazi in the country's east and predicted an uprising against the regime would be crushed within the next two days.
Saif al-Islam told France-based TV channel Euronews on Wednesday: "The military operations are finished. In 48 hours everything will be over. Our forces are close to Benghazi. Whatever decision is taken, it will be too late."
He was responding to questions about talks among world powers to impose a no-fly zone over Libya, a move endorsed by the 22-member Arab League last week in Cairo and backed by the United States.
The interview was given as Gaddafi's forces launched a major attack on the rebel-held city of Misurata, killing at least five people, medical sources said.
There was no immediate comment from the rebels' side following al-Islam's comments.
Tony Birtley, Al Jazeera's correspondent in Benghazi, said there was no fighting in the city on Wednesday, but added there was "a certain amount of apprehension" among the rebels.
But "there is strong will and a resolve to resist Gaddafi's forces", he said.
"This is a city of over 800,000 people. They have nailed their colours to the mast in a very clear and decisive way," said our correspondent.
'Force against Gaddafi'
A meeting of Group of Eight foreign ministers in Paris this week failed to get the agreement France was hoping for to support a no-fly zone being imposed over Libya, an issue that has also divided the UN Security Council.
But Alain Juppe, the French foreign minister who tried in vain to persuade his G8 counterparts to back a no-fly zone, wrote on his blog on Wednesday that it was not too late to take action.
"It is not enough to proclaim … that Gaddafi must go. We have to provide the means to help those who have taken up arms against his dictatorship," he wrote.
"Only the threat of using force can stop Gaddafi. It's by bombing, with his few dozen planes and helicopters, the opposition positions that the Libyan dictator has switched the balance."
Lingering doubts among some members of the 15-member council over a no-fly zone were immediately apparent after a proposed resolution was introduced on Tuesday afternoon.
Supporters of a no-fly zone pressed ahead on Wednesday to persuade reluctant members to back a resolution aimed at stopping Gaddafi's planes from bombing civilians.
Britain's UN ambassador, Mark Lyall Grant, said council members would discuss the proposed resolution "paragraph by paragraph" because members had "a number of questions about the text".
Colombia's ambassador, Nestor Osorio, said on Wednesday his country "very much supported" efforts to halt violence against Libyan civilians, but still had questions about the details of a possible no-fly zone.
Other ambassadors said issues to be clarified included whether the ban would apply to all flights countrywide, and what countries would contribute planes and other assets to enforce it.
Lebanon, the council's only Arab member, introduced the no-fly provisions in a draft resolution to council members at a closed meeting on Tuesday afternoon. The Arabs are strongly backed by France and Britain, which drafted elements of a no-fly resolution last week.
'Things worsening'
"We are deeply distressed by the fact that things are worsening on the ground, that the Gaddafi forces are moving forward extremely quickly, and that this council has not yet reacted," France's UN ambassador, Gerard Araud, told reporters on Tuesday.
Pro-Gaddafi troops have been battling rebels in several cities across the Libyan coastline, using machine guns and by airpower to halt the rebels' advance on key cities in the country's west.
The rebellion, which began last month in the relatively poor city of Benghazi, followed an Egypt-style uprising against Gaddafi, in power since 1969, and has seen hundreds of civilians killed, some by air force planes.
In an article for Al Jazeera, US Senator John Kerry said concrete steps were needed for the immediate implementation of a no-fly zone.
"My fear is that he is either choosing to bleed the opposition to death, rather than invite global action with a broad massacre, or waiting for the world to prove itself unwilling to act – at which point he might well begin killing civilians in large numbers," Kerry said. Aljazeera