Hariri: Canceling March 14 is delusional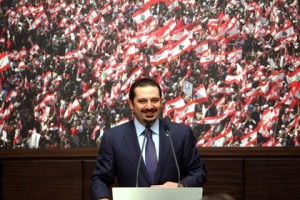 Caretaker Prime Minister Saad Hariri who is on a three-day visit to Tripoli said canceling March 14 alliance politically through the use of no-state arms is delusional, in reference to Hezbollah and its allies.
" He who thinks that he can politically cancel us by overthrowing the cabinet and pressuring us using arms, is delusional," Hariri told political leaders in northern Lebanon
"Any bullying using arms will not intimidate people. This was clearly shown through the huge gathering during Sunday's rally," Hariri told political figures from northern towns.
Hariri also said that he has been honest during his negotiations with other parties, and added that these negotiations aimed to achieve a true national reconciliation between the Lebanese people because it does not make sense that years after the end of the civil war, some political parties have not reconciled yet.
"We did not negotiate out of weakness as some think. We negotiated…to resolve the country's political crisis, and not for any other reason."
He said March 14 aspires for the state to have the decision of war and peace and maintain the people's security and stability.
"This is not an impossible proposal as some sides are trying to demonstrate … but it is a goal that we will work to accomplish for the sake of the country and the Lebanese," he continued.
In a country of 4 million people, more than one million Lebanese of all faiths… Christians, Druze , Muslim Shiites and Sunnis demanded that Hezbollah be disarmed as they rallied Sunday to mark the sixth anniversary of the Cedar Revolution, the uprising which inspired the recent revolts in the Middle East, International news agencies reported. Now Lebanon.
The theme at Sunday's rally was simple:" We want one state …one army to defend the country …lets unite the country and get rid of all the other states and armies ." the organizers said in reference to Hezbollah's state within the state of Lebanon and the non-state ( illegal) arms.
The rally this year comes after Hezbollah's military might was blamed for the collapse of the government . The Iranian and Syrian -backed Hezbollah brought down Hariri's government on January 12 over the Special Tribunal for Lebanon's (STL) imminent indictment which is widely expected to implicate Hezbollah members in the assassination of former PM Rafik Hariri in 2005
Mikati was appointed in January as the PM designate with the backing of the Hezbollah March 8 alliance and MPs Walid Jumblatt and Mohammad Safadi following the collapse of Hariri's unity government. March 14 leaders have repeatedly said that intimidation from Hezbollah's weapons helped secure the parliamentary majority for Mikati's nomination.