Algeria police use tear gas against protest in capital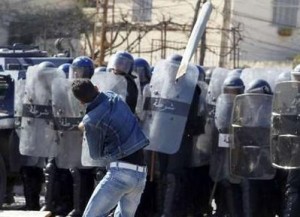 Police in the Algerian capital used tear gas on Wednesday to disperse a crowd of young men who were throwing petrol bombs and stones, a Reuters reporter said.
The protesters, who had blocked a road in the east of the capital, said they had no political demands but wanted the authorities to give them better housing.
"We live like dogs. We live in one apartment with the whole family and we have been here since the 1960s," one young protester told Reuters.
Rioting sparked by anger over living conditions is not uncommon in Algeria, but the authorities are especially wary of any signs of unrest now after protests in Tunisia and Egypt toppled long-standing rulers.
Unrest in Algeria, one of Europe's biggest suppliers of natural gas, has so far has been localised and attempts by opposition groups to create a nationwise protest movement have lost momentum.
Wednesday's protest began when about 60 young men, most of them from the working class Diar el Mahsoul neighbourhood, blocked a road and demanded a meeting with senior officials about their living conditions.
Their numbers swelled to about 150 and some began throwing stones and petrol bombs at police. Police, who numbered about 300, responded with tear gas, but it failed to disperse the crowd who continued rioting.