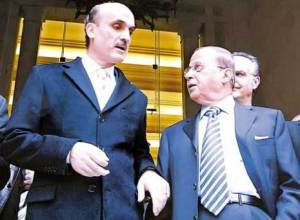 Lebanese Forces leader Samir Geagea is holding Free Patriotic Movement leader MP Michel Aoun responsible "for any domestic violence in Lebanon."
In an open letter addressed to Aoun, Geagea said on Wednesday that the FPM leader's comments on Hezbollah's arms are "a clear call for resorting to domestic violence."
"I felt the urge to address Aoun publicly because, once again, he has crossed the line," the LF leader said.
Aoun accused March 14 alliance yesterday of inciting strife during the Sunday protest
"If you want to know who is funding those who fought the Lebanese army in the Nahr al-Bared 2007 clashes, you should ask your friends in Syrian intelligence."
Aoun said yesterday : Who funded those who killed the Army in the North?
" Aoun also should follow up on the military trials to learn who killed Lebanese army pilot Samer Hanna in 2008 ," Geagea said, in a reference to Hezbollah.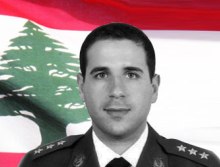 First Lieutenant Samer Hanna was killed when Hezbollah gunmen Mustapha Hassan Moukaddem, opened fire on his Lebanese army helicopter, which was flying over the village of Tilal Soujoud in southern Lebanon in August 2008
The LF leader added that Aoun is justifying the use of non-state weapons in the country.
On Tuesday, Aoun defended Hezbollah's arms use and accused March 14 parties of having obstructed efforts to strengthen the Lebanese army.
The FPM leader also warned in his press conference that Hezbollah would defend its arms if they were touched and reminded reporters about the 2008 May events when gunmen led by Hezbollah took over half of Beirut and tried to occupy Mt Lebanon. More Hezbollah militants were reportedly killed during the event than the 2006 war with Israel.
In a country of 4 million people, more than one million Lebanese of all faiths… Christians, Druze , Muslim Shiites and Sunnis demanded that Hezbollah be disarmed as they rallied Sunday to mark the sixth anniversary of the Cedar Revolution, the uprising which inspired the recent revolts in the Middle East, International news agencies reported. Now Lebanon