Syrian protesters defy Damascus ban, update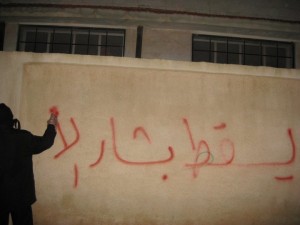 Protesters in Syria have for a second day defied a ban on demonstrations, gathering in Damascus to demand the release of political prisoners.
Security forces broke up the protest using batons and at least four people were reportedly arrested.
On Tuesday, according to videos posted online, hundreds took to the streets of the capital and other cities calling for democratic reforms.
The ruling Baath party has dominated Syrian politics for nearly 50 years.
President Bashar al-Assad – who came to power in 2000 after three decades of rule by his father Hafez – has moved slowly to open up the economy, but his administration does not tolerate any dissent.
Political prisoners
On Wednesday, some 150 protesters gathered in a square in the capital, near the country's interior ministry.
"After a long wait and rumours of an impending release of prisoners of conscience in Syria, our hopes have vanished," said a statement from the Syrian Observatory for Human Rights.
The organisation – which groups together the families of 21 jailed human rights activists – had said it planned to demonstrate in front of the ministry on Wednesday.
There are thousands of political prisoners in Syrian jails, and major opposition groups are banned.
The government also blocks access to several internet sites and maintains strict control of the media.
Reports said that shortly after the protesters gathered a counter-demonstration was held in the same square with people chanting that they would defend the Syrian president "with our soul, with our blood".
In January, President Assad told the Wall Street Journal that Syria was more stable than Tunisia and Egypt. He said that there was no chance of political upheaval, and pledged to press on with a package of reforms.
Watch the BBCvideo on the protest: