HE United Nations on Friday warned the crisis in Libya would likely have a 'significant' impact on food security in the country and surrounding region because of possible disruption of food supplies.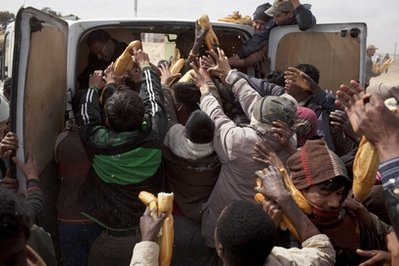 'In Libya, the situation may lead to a sudden disruption of imports and the collapse of the internal distribution system,' Daniele Donati, head of the Food and Agriculture Organisation's emergency operations, said in a statement.
'Depletion of food stocks and loss of rural manpower are all factors that in the longer-term could seriously affect food security,' he said.
'The ongoing crisis will likely have a significant impact on food security in Libya and in nearby crisis-affected regions,' he added.
The FAO statement added that information on the situation 'remains patchy and unconfirmed' and Libya would be further hit by price hikes on the international market which would raise the cost of food imports.
The UN issued an appeal for the Libyan crisis on Monday as part of which FAO said it was planning to supply vegetable seeds to Libya 'in order to boost the consumption of fresh food and micronutrient intake.'
This error message is only visible to WordPress admins
Error: No connected account.
Please go to the Instagram Feed settings page to connect an account.