Gaddafi's envoys unwelcome at Arab talks on crisis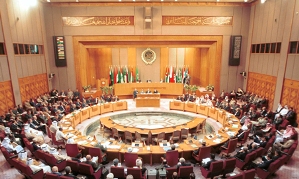 The Arab League will not allow two Tripoli envoys to attend a weekend crisis meeting expected to discuss imposing a no-fly zone over Libya, top officials in the pan-Arab organisation said Friday.
Tripoli sent envoy Salma Rashed to Cairo to replace Abdelmoneim al-Huni, who resigned as Libya's ambassador to the Arab League last month in protest at the killing of demonstrators.
Embattled Libyan leader Moamer Kadhafi also sent his electricity minister, Umran Abu Kraa, to attend Saturday's crisis talks in Cairo, an Arab League source told AFP.
But Hisham Youssef, chief of staff of Arab League secretary general Amr Mussa, said none of the Libyan delegation would attend the gathering after Tripoli was suspended from all Arab League meetings.
"No Libyans will attend the meeting based on the decision of the Arab League on March 2 to suspend Libya from meetings," Youssef told AFP
In Beirut, a foreign ministry official told AFP that ambassador Ali Shami would join Saturday's talks but Lebanon's position on the no-fly zone remained vague.
"Lebanon strongly condemns the massacres perpetrated in Libya, but the imposition of a no-fly zone was not on the agenda of the talks. If the subject does come up, Lebanon will take a position that falls in line with Arab consensus," the official said.
Shami requested Lebanon's ambassador to the U.N. Nawwaf Salam on Tuesday to call for an emergency meeting for the Arab envoys in New York to to adopt a Security Council resolution to impose an air embargo on Libya.
AFP.