Lebanon FM calls for air embargo on Libya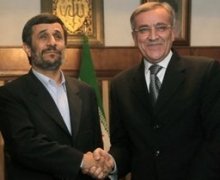 Caretaker Foreign Minister Ali Shami requested Lebanon's ambassador to the U.N. Nawwaf Salam to call for an emergency meeting for the Arab envoys in New York to advise it to adopt a Security Council resolution to impose an air embargo on Libya.
Shami is a member of the Amal movement which is headed by Speaker Nabih Berri.
According to observers Shami is acting in the interest of Amal movement in his call for an air embargo on Libya.
Libya's strongman Mummar Gaddafi has been blamed for the disappearance of Imam Moussa Sadr, founder of the Shiite Amal Movement , who disappeared in 1978 along with two companions after departing to Libya for talks with government officials.
Photo: Photo: Minister of Foreign Affairs Ali Shami is shown with Iranian president during his visit to Tehran last October. The visit was reportedly not authorized by the cabinet or PM Saad Hariri