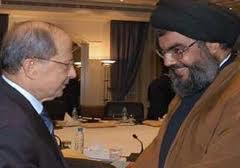 Following the Change and Reform bloc meeting its leader MP Michel Aoun said on Tuesday that he is proud of Hezbollah's arms.
"We are proud of the Resistance's weapons," Aoun told the reporters
Aoun attacked March 14 for campaigning against Hezbollah arms saying "this harms coexistence and national causes that we are proud of."
"Our choice is to fight Israel." Aoun said
Outgoing PM Saad Hariri vowed last week to fight the use of non-state weapons "peacefully and democratically", for being pointed against the Lebanese citizens . In reference to Hezbollah's use of the arms internally since 2006 for securing political advantages.
According to March14 sources if Hezbollah wants to be a real resistance it should be in the occupied territories of Shebaa , Ghajar and Kfar Shouba to fight Israel and not in the streets of Beirut pointing its guns at the Lebanese citizens and threatening politicians to gain political advantages
Commenting on the cabinet formation Aoun said that he has not yet given Prime Minister-designate Najib Mikati the names of the Change and Reform bloc candidates for ministerial portfolios.
"I can wait. I don't want a one-sided cabinet and I won't announce a government (lineup) that doesn't include at least 10 or 15 ministers that I would be proud of," Mikati told An Nahar in an interview published Tuesday . Mikati called on Aoun to "reduce his conditions and drop one or two ministers from his list of demands."
This error message is only visible to WordPress admins
Error: No connected account.
Please go to the Instagram Feed settings page to connect an account.