Lebanese Women:The Cedar Revolution will persist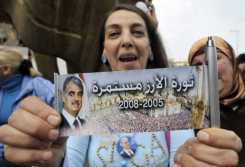 Ahead of International Women's Day on March 8, hundreds of Lebanese women defied Hezbollah and demonstrated over the weekend in downtown Beirut in support of an international tribunal investigating the assassination of former premier Rafiq Al-Hariri.
The women, all backers of the liberal March 14 Movement led by caretaker Lebanese Prime Minister Saad Hariri, son of the slain primer, formed a human chain Sunday stretching from Hariri's grave to the spot where his car exploded in February 2005, killing him and 22 others.
"The people want to drop the arms," chanted the women, a takeoff on the pan-Arab call "the people want to topple the regime." The arms in question are those maintained by the Shiite Islamist movement Hezbollah, which has refused to give them up claiming they were legitimately used in their fight against Israel.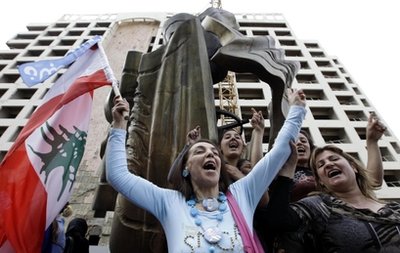 Hezbollah vociferously opposes the UN-commissioned Special Tribunal for Lebanon (STL) which is rumored to have indicted senior members of the Islamic party for involvement in Hariri's assassination. On January 12, Hezbollah walked out of Saad Hariri's unity government, bringing it down. Prime Minister-designate Najib Miqati is in the process of forming a new government, expected to comprise mainly of technocrats and Hezbollah members.
"This demonstration symbolizes the weakness of the March 14 Alliance," Hilal Khashan, a political scientist at the American University of Beirut told The Media Line. "They want to portray this as a grassroots movement, but in fact it isn't. They don't want to directly confront Hezbollah on the street because they know they'll lose, so they use women who they know Hezbollah won't hurt."
One of the participants in the demonstration was May Chidiac, a Christian TV journalist and outspoken critic of Syria's presence in Lebanon. She was severely injured in a 2005 blast blamed on Syria which severed her left arm and leg. The attack on Chidiac was only one in a series of attacks against anti-Syrian Lebanese figureheads throughout 2005, including politicians George Hawi and Gebran Tueni, and journalist Samir Kassir.
On Sunday Chidiac was steadfast in her defiance of Hezbollah, speaking to a mixed crowd of veiled Muslim women and bare-headed Christians.
"We have not yet tired or despaired," the London-based Arab daily Al-Hayat quoted her as saying. "We have grown accustomed to torment, but (Hezbollah's) treacherous weapons will not scare us, nor will their black shirts."
Ranya Ghanem, wife of slain politician Antoine Ghanem, told the newspaper she came to demand the exposure of "those who deprived us of our loved ones."
March 14's main tour de force is planned for Sunday, March 13, marking the sixth anniversary of the Cedar Revolution — a series of mass demonstrations that took place in Lebanon following Hariri's assassination and calling for the full withdrawal of Syrian forces from Lebanon. The organizers told Lebanon's Daily Star that the demonstrations were brought forward to Sunday so as "to allow the highest level of participation" and prevent the loss of a work day. But Hilal Khashan said demonstrations would only further destabilize an already volatile situation.
"Protests in the Arab world are leaving Lebanese upbeat and feeling they can achieve anything by taking to the streets," Khashan said. "But this will only further escalate the situation, since Hezbollah will be forced to respond. Lebanon is not Libya — the political situation here is much more complex."
Meanwhile, some 8,000 demonstrators protested in Beirut on Sunday against Lebanon's sectarian system and political corruption. Standing outside of Lebanon's Electricity Ministry, which has become a symbol of corruption and mismanagement, the protesters called for a "secular and democratic country."
Lebanon's sectarian system regulates power sharing in key positions between its main religious sects: Maronite Christians, Sunni Muslims, Shiite Muslims and Druze. Political parties are often established along confessional lines. But Nadim Shehadi, an expert on Lebanon at Chatham House, a London-based think tank, said that anti-sectarian demonstrations would not amount to a full-fledged revolution.
"This is not a revolution the kind of which we have seen in Tunisia or Egypt, simply because there is no regime to topple" he told The Media Line. "Calls to change the sectarian system have been a constant theme in Lebanese politics for the past 50 years. Even in the 2005 demonstrations many of the slogans were anti-sectarian."
Arab News
Top Photo: A Lebanese woman supporter of outgoing Prime Minister Saad Hariri holds a gadget with a photograph of slain former Prime Minister Rafik Hariri that reads in Arabic 'The Cedar Revolution continues' in Beirut, Lebanon, 06 March 2011. Thousands of women supporters of Rafik Hariri formed a human chain from his grave in downtown Beirut to the place where he was killed in a massive truck bombing in 2005.