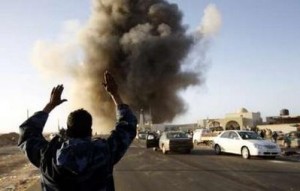 Western allies remain divided over whether to impose a no-fly zone over Libya to support rebels fighting Muammar Gaddafi's forces and prevent air attacks on civilians.
Following are the latest international comments:
* EUROPEAN POWERS
Britain and some other countries are working on a Security Council resolution allowing for a no-fly zone over Libya. British Foreign Secretary William Hague said: "At the U.N. Security Council, we are working closely with partners on a contingency basis on elements of a resolution on a no-fly zone, making clear the need for regional support, a clear trigger for such a resolution and an appropriate legal basis."
Hague reiterated his comments Tuesday.
France said last week it was working with Britain on such a resolution.
The German government has yet to say whether it would support Britain and France in their drive at the United Nations.
Ruprecht Polenz, who chairs the German parliamentary Foreign Affairs Committee, said Tuesday at least one Muslim nation must take part in imposing the zone over Libya and U.N. Security Council approval alone would not justify such an operation.
* CHINA
Any U.N.-authorized action against Libya must ensure it helps the country return to stability as soon as possible, Chinese Foreign Ministry spokeswoman Jiang Yu said Tuesday in response to British and French proposals for a no-fly zone.
* UNITED STATES
The White House said all options were being considered including arming Libyan rebels. "The option of providing military assistance is on the table because no options have been removed from the table," spokesman Jay Carney said Monday.
U.S. officials cautioned Monday that a no-fly zone over Libya, an idea popular among both Democratic and Republican lawmakers, would be difficult to enforce and might not stop helicopter gunships from attacking rebels.
President Barack Obama, when asked last week if he is actively considering seeking a no-fly zone, said: "With respect to our willingness to engage militarily, what I've instructed the Department of Defense as well as our State Department and all those who are involved in international affairs to examine, is a full range of options."
U.S. Defense Secretary Robert Gates cautioned any foreign military intervention in the Libyan crisis would require international backing. "I think at this point there is a sense that any action should be the result of international sanction," he told a news conference.
Last week Gates sounded a note of caution. "Let's just call a spade a spade. A no-fly zone begins with an attack on Libya to destroy the air defenses," he told a congressional hearing. U.S. Secretary of State Hillary Clinton said last week that a no-fly zone was not an immediate priority.
Gulf states called for a no-fly zone to be imposed in Libya and for an urgent Arab League meeting to discuss the situation there. Foreign ministers "called on the … (U.N.) Security Council to protect Libyan civilians, including through a no-fly zone," said a statement read by Abdulrahman al-Attiyah, secretary general of the Gulf Cooperation Council.
The Arab League said it would consider imposing a no-fly zone over Libya, which has been suspended from the organization. At an Arab League ministers' meeting in Cairo last week, they rejected any direct outside military intervention in Libya but Secretary-General Amr Moussa said steps taken by the group could include enforcing a no-fly zone in cooperation with the African Union. "The Arab League will not stand with its hands tied while the blood of the brotherly Libyan people is spilled," Moussa said.
* NATO
The military alliance's head said he did not believe the international community would fail to act if Libyan leader Muammar Gaddafi continued attacks on opponents. Alliance Secretary-General Anders Fogh Rasmussen reiterated that NATO had no intention to intervene in Libya and would only do so if the U.N. Security Council called for this, something analysts say is unlikely due to Russian and Chinese opposition.
"However, it is an evolving situation and I can't imagine the international community and the United Nations would stand idly by if Gaddafi and his regime continue to attack their own people," Rasmussen told a news conference in Brussels.
NATO has launched 24-hour air surveillance of Libya with AWACS reconnaissance aircraft as it plans potential future steps to address the unrest, the U.S. ambassador to NATO said on Monday. Obama said NATO was considering military options.
* RUSSIA
Moscow is against any foreign military intervention in Libya, state-controlled news agency RIA Novosti quoted Russia's Foreign Minister Sergei Lavrov as saying Monday. "We don't see foreign intervention, moreover the military one, as a means of solving the crisis in Libya. The Libyans have to solve their problems by themselves," Lavrov was quoted as saying.
* REBELS
Libya's Deputy U.N. Ambassador Ibrahim Dabbashi, one of the first Libyan diplomats to denounce Gaddafi and defect, has said Libyan rebels should ask the United Nations for a no-fly zone, according to diplomats. "What is needed at this time is that such decision be made officially and that we, in New York, are notified of it so that we make a formal request to the United Nations," he told Al-Jazeera television.
Photo: A Libyan rebel fighters reacts during an air strike in Ras Lanuf March 7, 2011. Libya's army fought rebels for control of Ras Lanuf on Monday and a rebel official said Muammar Gaddafi could attack oilfields like a "wounded wolf" if the West did not stop him with air strikes. Reuters