Iran Security Forces fire teargas at opposition supporters
Reuters has reported that Iranian Security Forces firing teargas to disperse opposition supporters in Tehran
Rafsanjani loses key post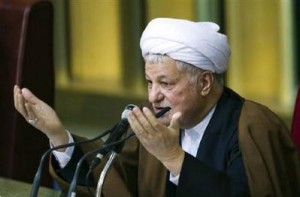 In another development Ayatollah Ali Akbar Rafsanjani, Loses Key Post in Iranian Religious Assembly.
A powerful Iranian clerical body appointed a candidate backed by President Mahmoud Ahmadinejad as its new chairman on Tuesday to replace the former president Rafsanjani, state media reported, strengthening the hand of hardliners seeking to silence dissent.
While the maneuver is unlikely to have a far-reaching practical effect, it will nonetheless bolster those around Ahmadinejad who have moved persistently and forcefully to quash opposition that surfaced in huge demonstrations after disputed presidential elections in 2009.
Mr. Rafsanjani, a former president and Parliament speaker, was widely perceived as having tilted toward Mir Hussein Moussavi, a challenger to Mr. Ahmadinejad, in the 2009 vote. Within Iran's complex and secretive elite, Rafsanjani's relationship with Ahmadinejad remains strained.
The setback for Mr. Rafsanjani came in a vote for the leadership of the Assembly of Experts, a body of religious scholars entrusted with monitoring the country's supreme leader and choosing a successor at his death, offering it potentially wide power to mold Iran's political direction.
Iranian government owned Press TV said 63 members of the 86-member assembly voted in favor of Ayatollah Mohammad Reza Mahdavi Kani, 80, to replace Rafsanjani.
Reuters, NYT