Rifi : We shouldn't be afraid as long as we have people like Sfeir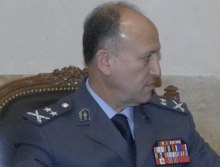 ISF chief General Ashraf Rifi told reporters after meting Patriarch Nasrallah Boutros Sfeir at Bkirki : As long as this country has men of Patriarch Sfeir's caliber, we should not be afraid at all .
Rifi said the enrollment rate for Christians in the ISF has almost reached 40% for the first time in ISF's history.
Rifi who was accompanied by Commander Brigadier General Robert Jabbour presented
Sfeir with a a commemorative shield from the Internal Security Forces "in recognition and respect for the patriarch's national stance , and for his sacrifices to the almighty God and the country "
Addressing the Patrarch Rifi said: You have always been a good shepherd to the people who are craving for freedom, safety and dignity and the Lebanese will always be proud of great men like you"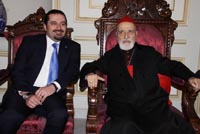 Earlier today outgoing PM Saad Hariri also visited Sfeir , whom he branded as " the conscious of Lebanon"
"I ask forgiveness from those who thought that I offended them in any way," the outgoing Patriarch said during a ceremony and mass in Bkirki last Saturday in his honor.
Sfeir, 90 had asked several months ago to be relieved of his post because of his age. Sfeir's resignation was accepted last month during a meeting with the pope on the sidelines of a visit to the Vatican to unveil a statue of the Maronite Church founder Saint Maroun on the outer wall of Saint Peter's Basilica.
According to local reports , the 39 Christian Maronite bishops will gather on Wednesday March 9 to elect the new patriarch during a spiritual conclave which will be held at Bkirki . The spiritual conclave lasts 3 days and will be followed by deliberations . The name of the new patriarch will reportedly be announced 15 days later.