Libyan Foreign Minister sees conspiracy to split Libya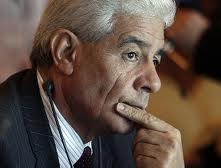 Libyan Foreign Minister Musa Kusa accused Western powers on Monday of trying to split his country by contacting rebel forces in the eastern region. "It's clear they are getting in touch with the defected people of eastern Libya. It's clear there is a conspiracy to divide Libya," he told a news conference in Tripoli.
"The English are yearning for the colonial era of the past," he said. "The first nations who started getting in touch with the secessionists were the English, also the French and the Americans."
A British diplomatic team reported to include special forces left the eastern town of Benghazi on Sunday after rebels captured and then released them.
Foreign Secretary William Hague said the problems they had encountered had been resolved and Britain would send another delegation to meet rebel leaders soon.
A rebel spokesman in Benghazi said the team had included elite troops and their arrival had taken the rebels by surprise.
GCC calls for no fly zone
The Gulf Cooperation Council called on the United Nations Security Council Monday to approve a no fly zone over Libya in the interest of protecting its people against "crimes against humanity."
In a press conference held after a meeting of Gulf foreign ministers in Abu Dhabi, Gulf Cooperation Council, or GCC, secretary general Abdul Rahman Al Attiyah called on the Security Council to "take sufficient measures to protect the people of Libya, including approving a no fly zone."
Reuters, WSJ