Bahraini pro-government leader meets opposition
The Bahraini leader of a prominent pro-government group has met opposition parties, as politicians try to bridge a widening gulf between the tiny country's Shia and Sunni population.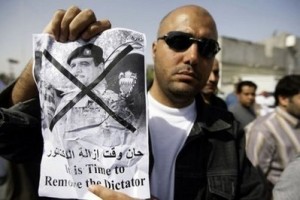 Widespread protests have been led primarily by Bahrain's Shia majority, who feel discriminated against by the Sunni al-Khalifa royal family.
However, calls by the demonstrators for the royal family's ousting, which grew more widespread after a brutal security crackdown that killed seven protesters, has inflamed many Bahraini Sunni, who have rallied behind the al-Khalifas and the embattled government.
As a result sectarian tensions have been on the rise, most notably leading to fights last week between Bahraini Shia youths and recently naturalised Bahrainis from Jordan and Syria. Some observers fear that clashes could escalate, threatening to bring the Gulf kingdom to the brink of civil war.
To ease tensions seven opposition parties, mainly Shia Islamists and Sunni liberals and left wingers, met Sheikh Abdullatif al-Mahmoud on Monday evening. He has emerged as the leader for the pro-government "Unity" bloc.
"We want to reduce sectarianism," said Ebrahim Sharif, the Sunni head of the secular, opposition Waad party, before the meeting. Sheikh Abdullatif's grouping "have made statements that are not good, but they represent a large bloc that is fearful, and we have to reach out," he said. "We hope we can find some common ground."
However, the meeting took place soon after several Shia demonstrators had been injured when a woman drove a car into protesters outside the Bahrain Financial Harbour, the country's main financial centre. The incident is likely to increase sectarian tensions.
Shia activists who were present claimed the woman, who had a picture of the Sunni prime minister in her car, intentionally drove into the crowd, who were milling across and round the roads outside the Bahrain Financial Harbour. However, the Sunni claim the woman was attacked by protesters who saw the picture of the premier – widely hated by the Shia – and panicked, driving into the protesters by accident.
The competing narratives of the event underline how Bahrain's sectarian and political lines are rapidly becoming more entrenched. The mainly Shia demonstrators' willingness to protest show no signs of waning.
"We stand here for basic human rights," Salman Ghaweb, one of the protesters outside Bahrain Financial Harbour said before the car clash. "We don't want jobs, housing or money, we just want to be treated equally, and elect our own government . . . We will remain peaceful." FT