Libya revolt costs Russia $4 bln in arms deals, report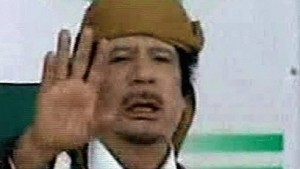 Russia will lose $4 billion in arms deals due to unrest in Libya, Russian news agencies quoted Sergei Chemezov, head of the state holding company that controls weapons exports, as saying on Thursday.
Chemezov, chief of Russian Technologies, spoke days after Russia supported a U.N. Security Council resolution imposing an arms embargo on Libya's government. Russian Technologies controls state arms exporter Rosoboronexport.
"Rosoboronexport's lost profits due the situation in Libya amount to $4 billion," state-run RIA quoted Chemezov as saying. The reports did not mention any specific deals.
The daily Kommersant on Monday cited a source as saying that Russia currently had $2 billion worth of arms contracts with Libya and was close to concluding deals to sell military aircraft and anti-aircraft missiles worth another $1.8 billion.