ICC: Libya's Gaddafi to be investigated for war crimes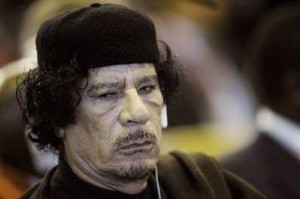 The chief prosecutor of the International Criminal Court (ICC), Luis Moreno-Ocampo, said he will investigate alleged war crimes committed by Libyan strongman Moammar Gaddafi, his sons and his top associates in government during the ongoing unrest in the country.
At the heart of the matter are reports that Gaddafi gunmen have massacred unarmed civilians and protesters. Untold thousands have reportedly died in Libya since demonstrations against the regime erupted in mid-February. The court will also investigate allegations of air strikes, illegal detentions and forced displacement.
"I would like to use this opportunity to put them on notice," Moreno-Ocampo told CNN. "I want to be clear: If their troops commit crimes, they could be made criminally responsible."
Moreno-Ocampo noted that he and his office have identified some individuals who may be targeted for crimes.
"They are Moammar Al Gaddafi, his inner circle including some of his sons who have a facto authority, but also there are some people with formal authority that should pay attention to the crimes committed by their people because if they are not preventing stopping and punishing these crimes they could be responsible in accordance with the law," he said.
"They are minister of foreign affairs, the head of the regime security and intelligence, the head of Gaddafi personal security and the head of Libyan external security. So we would like to use this opportunity to put them on notice. If forces under their command commit criminal act they could be responsible."
Moreno-Ocampo warned that it will take time to seriously carry out the probe,
"This is the beginning of the investigation. I can give no details," he said.
"We cannot confirm these allegations that these civilians were bombed by planes. But we have… confirmation that civilians that were demonstrating were shot by security forces. We interview people and we will present the evidence to the judges. The judges will decide who should be prosecuted."
However, the chief prosecutor added that anti-Gaddafi forces may also be investigated if they are suspected of having committed war crimes.
"Now, it's not just civilian demonstrations. Now, there are people opposing Gaddafi with weapons. And also we would like to warn them, you cannot commit crimes. Our business in Libya is (to) stop the crimes," he said.
Moreno-Ocampo said he plans to close his investigation within a few weeks. IBtimes