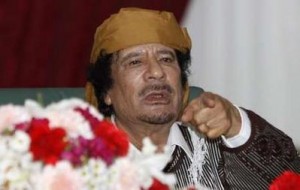 Amid new reports of fighting between his security forces and rebels seeking his ouster, Col. Muammar el-Qaddafi took time out today to deliver a meandering, disjointed three-hour speech mixing a combination of giveaways to the public, promises of reform, and vows of retaliation in an apparent bid to quell the growing unrest here.
His speech bore little apparent relation to reality. Addressing the Libyan Peoples General Congress on the 34th anniversary of the founding of Libya's distinctive "rule by the masses" nonconstitutional government, Colonel Qaddafi repeated his recent denials in the face of all evidence that any demonstrations against his government had taken place recently.
When he entered the room, a cheering crowd mobbed the desk when he was to speak, trampling and breaking an arrangement of flower pots placed on the floor. He was by turns soft-spoken and pugnacious. He turned pages as he read from a long prepared speech, but then veered off into lengthy, improvised digressions.
At times he adopted the tone of an absent-minded uncle, asking his audience to remind him of the names of newspapers or to return to a certain subject before he left (the audience did). But at other times his tone would turn bellicose, as he urged his supporters to fight on with him "to the last man and the last woman."
He blamed the insurrection that has removed much of the country from his control on radical Islamists, and once again suggested they had given young people drugs that goaded them into a frenzy of rioting.
"There were no demonstrations" in the eastern towns where the uprising started last month, Colonel Qaddafi said. "People came from outside Libya. Al Qaeda and the whole world knows that Al Qaeda does not take part in demonstrations."
He called the rebels holding some cities "terrorists" and said loyalist forces would not surrender. He asked parents to persuade young people to turn in their weapons and promised forgiveness, but he vowed swift vengeance against those he said were behind the revolt: Afghanistan-trained militant Islamists.
He repeatedly vowed to defy international pressure, warning the Western powers not to intervene and threatening a fierce fight if they did. Western intervention, he said, could set off the kind of civil war seen in Iraq or Afghanistan. If Western oil companies stopped doing business with Libya, he said, the country would turn to the Indians and Chinese.
He laughed at reports that the United States had frozen $30 billion of his family's assets abroad, saying that they would not find one Libyan dinar because he lived so simply. He faulted the United Nations Security Council for passing a resolution chastising his government without investigating the situation first, and he blamed the defection of much of Libya's delegation to the United Station for spreading misinformation.
He also criticized the foreign journalists he invited to Tripoli. "Libya doesn't like foreign correspondents," he said. "They shouldn't even know about the weather forecasts in Libya, because we are suspicious," he said, according to a translation from Arabic to English carried live on Libyan state television.
But he also tried to placate the public. He said that his son Seif al-Islam el-Qaddafi had persuaded him that the Libyan people want a constitution, and so he would support enlisting the country's best experts to draft one. He said he would support freedom of speech, even speech critical of the government. And he offered giveaways that, if genuine, would appear dangerous to the health of the Libyan economy. He said he would more than double the salaries of government employees and offer no-interest loans of as much as $100,000 to Libyans to buy a car or a home.
Libyan state television showed Colonel Qaddafi exchanging clenched fist salutes with his supporters.
"It is the people who rule," he said, repeating his assertion, disputed by many outsiders, that he wields no formal political power. "There is nothing else but people's power," he said. "There is no room for a king or guardian or master to replace people's power."
After introducing the system in 1977, Colonel Qaddafi said, "I went back to my tent" — a reference to a favored form of accommodation supposed to reflect his Bedouin roots. Scores of people attending the event, however, chanted an apparently choreographed slogan calling him their leader.
A woman who was not identified by name stepped up to a microphone and shouted, "You are a sword that will not bend."
To the surprise of the Westerners in attendance, he even had a compliment of sorts for President Obama. "Obama's policies as I have seen them so far are rational, and he is not going to create a new Iraq or Afghanistan," he said, referring to the potential consequences of Western intervention. NYT