Gaddafi to speak as the bodycount continues to rise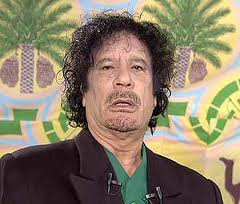 Libyan leader Muammar Gaddafi is expected to speak shortly, as the residents in the Libyan capital of Tripoli reported a food shortage, gunfire and intimidation by security forces on Tuesday as the country's longtime ruler asserted his power and gave no indication of succumbing to week-long anti-government protests.
Libya's ambassador to the United States has resigned from what he calls a "dictatorship" regime. The Reuters news agency reported amabssador Ali Aujali, speaking to ABC's "Good Morning America," saying, "Let me start by saying that I resign from serving the current dictatorship regime, but I will never resign from serving our people until their voices reach the whole world, until their goals are achieved."
Security forces in Libya cordoned off the Fashloom suburb of Tripoli and were shooting anyone who moves on the streets — including those who are trying to retrieve bodies, said Mohamed Abdallah, spokesman for the National Front for the Salvation of Libya opposition group. Abdallah attributed the information to four eyewitnesses on the ground.
Meanwhile, a woman in Tripoli described a tense scene Tuesday morning.
"We heard a lot of gun shots, explosions, demonstrations and the sound of sirens," said the witness, who is not being identified for security reasons. The witness added that firefighters have not been able to extinguish a fire at the People's Hall government building and that a massive protest was expected for Tuesday night.
The Arab League is to hold an emergency meeting in Cairo on Tuesday, to discuss the unrest in Libya.
CNN, Al Jazeera