Syria denies meddling in Lebanon's cabinet formation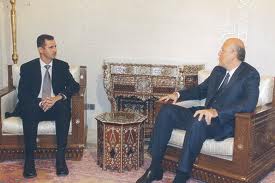 In response to yesterday's report that Syria is actively facilitating the cabinet formation in Lebanon, pro-Syrian allies denied to An Nahar newspaper that Damascus was meddling.
"This should be a clear message to everyone that Damascus is not meddling" in Lebanon's internal affairs regardless of its ties with Mikati and other parties that have backed his nomination, they said.
Meanwhile, Prime Minister-designate Najib Mikati said Tuesday that he is not about to give up on cabinet formation, stating that the preservation of Lebanese stability requires that he continue his mission.
He added that his negotiations with March 14 will continue as long as "the cabinet formation memorandum is not yet issued."
"Diversity is the [distinguishing] feature of the Lebanese system and a one-sided cabinet cannot survive," he added.
Syria denies meddling
The denial came a day after the Central News Agency said "Syria has moved from the stage of urging Miqati to speed up the process of cabinet formation to the stage of trying to facilitate his mission."
The Syrian leadership is now engaged in solving the dispute over shares in the new cabinet "between its new and old allies, and between President Michel Suleiman and Free Patriotic Movement leader MP Michel Aoun," Damascus visitors told the agency.
"Damascus will try to find a solution to the dispute over the interior portfolio," CNA quoted the visitors as saying.