Earthquake in New Zealand destroys buildings, at least 65 dead [Photos]
A devastating 6.3-magnitude earthquake struck the New Zealand city of Christchurch on Tuesday, killing at least 65 people and collapsing buildings onto victims, some of whom used their cellphones to frantically call for help, officials said.
Rescuers dug through the rubble overnight amid reports that many people were still trapped and the toll could rise much higher.
A statement posted on the website of the Christchurch Police Department said the fatalities included "two buses crushed by falling buildings." It said that "the central city is currently being evacuated, as reports are received of widespread damage to buildings and infrastructure. Multiple fatalities have been reported at several locations."
Hours after the earthquake struck at 12:51 p.m., the tourist center of 400,000 residents resembled a war zone, a city without electricity or running water in many areas.
"We have got tens of thousands of people who are very scared," Mayor Bob Parker said at a press conference late Tuesday.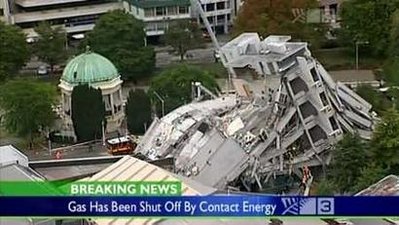 The temblor, the second to hit the city since September, struck during the lunch hour as the city center teemed with pedestrians. Several people were reportedly in the tower of the Christchurch Cathedral as its spire toppled. Photographs showed a large rescue effort at the crushed multistory building that housed the Pyne Gould Corp.
Television reports showed bodies being pulled from rubble; it was unclear whether any of them were alive. Footage showed bricks and shattered concrete from buildings strewn in the streets. Sidewalks and roads were cracked and split. Sirens blared as dazed and crying residents, their faces bloodied, wandered the streets or scurried as parts of damaged buildings continued to fall.
Some cars were buried under rubble, and rescuers threw chunks of concrete aside to reach survivors.
"Make no mistake — this is going to be a very black day for this shaken city," Parker said earlier.
As the sun set on the skittish city, officials warned residents to prepare for the worst. They said local rivers were being used as emergency waste-water zones.
"Do not shower, do not take a bath, do not flush your loo. Tomorrow we are gong to smell a bit. Dig a hole in the backyard if that is what it takes, and save your water for drinking," said Parker at the hastily called press conference, adding that the New Zealand air force would continue to bring aid in overnight.