Iranian hackers attack news service of US government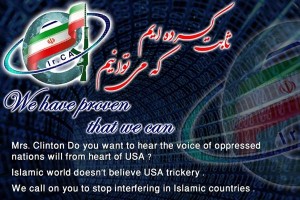 The Iranian Cyber Army (ICA), a group known for attacks on Twitter as well as Baidu, replaced the landing page for Voice of America (VOA) on Monday with a message of their own. In addition, they claim to have hit more than 90 other websites in the same attack.
"Mrs. Clinton Do you want to hear the voice of the oppressed nations will from heart of USA? Islamic world doesn't believe USA trickery. We call on you to stop interfering in Islamic countries," reads the message left by the ICA.
The website of Voice of America Persian was also attacked by the Iranian pro-government group. Voice of America is the official news service of the United States Government. Of the 94 domains listed by the ICA, a majority of them are VOA related.
"Website of VOA Persian Service was Hacked today by #Iran 's Cyber army #Iranelection," Golnaz Esfandiari wrote at around 5:30 p.m. Eastern on the social media tool Twitter.
One VOA story now states that the incident may have been prompted by the U.S. State Department's recent Arabic- and Persian-language Twitter campaigns in support of pro-democracy opposition groups overseas.
The ICA made headlines in 2009 when they compromised the email account owned by a Twitter staff member and used that access to redirect Twitter's DNS services.
In each of the previous defacements, the ICA's actions were political. There have been rumors that the ICA is connected to the Iranian government. At the same time, rumors also call them Russian hackers.
As quickly as the ICA made the news and made themselves known, they went idle with no explanation. It's possible that as things heat up in Iran and in North Africa, this incident marks their return.
So what happened this time? The short answer is that no one knows yet.