Nasrallah is "full of hot air" says Chamoun
Na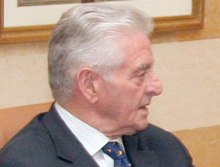 tional Liberal Party leader MP Dori Chamoun said on Saturday that Hezbollah Secretary General Sayyed Hassan Nasrallah is "full of hot air."
"Nasrallah is either laughing at the Lebanese people or at himself or is full of hot air," Chamoun told the Voice of Lebanon (100.5) radio station, in a reference to the Hezbollah chief's Wednesday speech.
"If [Nasrallah] thinks he can take the Galilee [region in northern Israel], then what is he waiting for?"
Chamoun also said that Change and Reform bloc leader MP Michel Aoun "developed hatred toward President Michel Sleiman."
"Aoun developed hatred toward Sleiman because he considers the latter [to have taken] the presidency from him," Chamoun said.
On Wednesday, Nasrallah threatened to "target" Israeli officials and "liberate the Galilee" in the event of war.
March 14 figures have slammed Aoun over his demands for shares in a new cabinet headed by Prime Minister-designate Najib Mikati.
Aoun is demanding the Interior Ministry portfolio – which is currently part of Sleiman's share.
Aoun said on Wednesday that Sleiman "broke the conditions of his election and went down into the [political] square." The president reportedly insists on keeping the Interior Ministry as part of his share
ABNA