By Anthony Shadid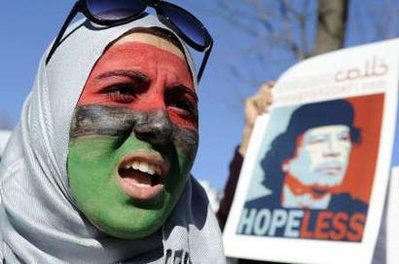 As thousands of protesters returned Saturday to a courthouse in Libya's second largest city that has become an epicenter of a challenge to four decades of Col. Muammar el-Qaddafi's rule, a deadly cycle was emerging: Security forces fire on funeral marches, killing more protesters, creating more funerals.
Human Rights Watch, based in New York, said 84 were dead in protests that had shaken Libya, a North African nation rich in oil reserves. There were more reports of violence on Saturday, but details, including casualty numbers, were almost impossible to verify in a deeply isolated country that remains largely off limits to foreign journalists and, as part of the government crackdown, effectively cut off from the Internet.
The government response in Libya underlined an unintended consequence of the success of uprisings in Tunisia and Egypt, where protests forced the departure of long-serving authoritarian leaders. In Libya, Yemen and Algeria, the governments have quickly resorted to violence to crush unrest before it gathers momentum that might threaten their grip on power.
A day of antigovernment marches in Yemen, the Arab world's poorest country, took a violent turn as government supporters opened fire on a group opposing the 31-year rule of President Ali Abdullah Saleh, wounding at least four people. And hundreds of police officers in the Algerian capital, Algiers, used clubs, though not guns, to overwhelm antigovernment demonstrators trying to gather there.
The crackdown in Libya has proven the bloodiest, drawing criticism from the United States and European allies, which have drawn closer in recent years to the country, which once fashioned itself as the vanguard of third world liberation movements.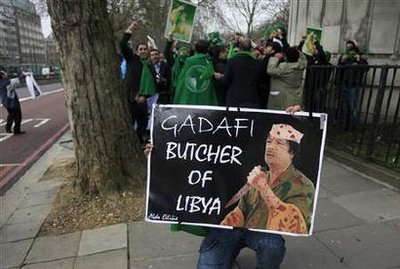 In London, Foreign Minister William Hague said he had reports that heavy weapons fire and sniper units were being used against protests, organized in a half-dozen cities or more. "This is clearly unacceptable and horrifying," he said in a statement.
Thousands returned Saturday to the courthouse in Benghazi, Libya's second largest city, which has emerged as an axis for the demonstrations there. Idris Ahmed al-Agha, a Libyan writer reached by telephone, said the crowd had grown to more than 20,000 by midday.
Opposition Web sites reported that later on Saturday security forces fired on mourners burying protesters killed a day before in the city. One of the sites, Al Manara, said snipers fired from an army base that sits on the route mourners took to the cemetery, and a video posted on a Facebook page that has compiled images from the protests showed a march coming under fire, with at least one mourner shot in the head.
"It is too late for dialogue now," said a Benghazi resident who has taken part in the demonstrations but refused to be named. "Too much blood has been shed. The more brutal the crackdown will be, the more determined the protesters will become."
"We don't trust the regime anymore," he said in a phone interview.
The government has viewed the situation in Benghazi as so precarious that Colonel Qaddafi sent one of his sons, Saadi, to the eastern Libyan city last week in an attempt to mollify resentment, residents said. In a speech Wednesday, the son promised reform, but his overtures were seen as condescending, several said. His whereabouts were unclear on Saturday, with some saying he was holed up in a hotel in the city, where Colonel Qaddafi's writ still runs broad but not as deep as in the capital, Tripoli, in the west.
In the streets of Benghazi, protesters have echoed a chant heard in Tunisia, then picked up by protesters in Egypt: "The people want to topple the regime."
The unrest in Benghazi appeared to grow out of the long-simmering repercussions of the killings of hundreds of prisoners in 1996 in the Abu Salim prison in Tripoli. Some of the families have refused government compensation for the deaths of their relatives and organized occasional demonstrations to press for more information. Others have joined their protests since Wednesday at the courthouse in Benghazi.
One of the wealthier countries in the region, Libya has been spared the economic grievances that offered a cadence to protests in nearby Egypt. Nor does Colonel Qaddafi seem to generate the loathing that President Zine al-Abidine Ben Ali did in Tunisia. The Libyan government itself is considered relatively uncorrupted, by the region's standards, and Colonel Qaddafi has buttressed his singular and eccentric style of authoritarian rule with a combination of vast resources and a relatively small population of 6.4 million.
But the political grievances in places like Benghazi have deepened with the crackdown. Some residents accuse the state of deploying special forces and foreign mercenaries to crush the protests, and the bloodshed — much of it inflicted on funeral marches — seems to have struck a chord of anger across the city.
"They're not going to go back to their homes," said Issa Abed al-Majid Mansour, an exiled opposition leader in Oslo. "If they do, he'll finish them off. They know the regime very well. There's no to go back now. Never, never."
In an attempt to stanch communication among protesters, rights groups, opposition figures and others, the government appeared to be interrupting cellphones, long-distance calls on land lines and access to the Internet.
Human Rights Watch said, based on telephone interviews with hospital staff and witnesses, that 35 people were killed in Benghazi on Friday and 20 on Thursday. Twenty-three people have been killed in Bayda, a city about 125 miles to the northeast of Benghazi, and the rest in other eastern Libyan cities, it said.
So far, Tripoli has remained relatively quiet, save for demonstrations organized by the government in support of Colonel Qaddafi.
The Libyan crackdown comes amid one of the most tumultuous moments in the Arab world in recent memory, with two long-time leaders falling in as many months and a series of Arab states, from Algeria to Bahrain, facing defiant calls for change.
In Algiers, hundreds of baton-wielding police officers pushed back demonstrators, breaking up an antigovernment protest. Riot police officers in unyielding lines repeatedly forced the hundreds of demonstrators into smaller groups, shoving some down side streets and pushing others up a main artery until they dispersed.
"We're sick of the government," they chanted in French and Arabic.
In Yemen, about 1,000 protesters demanding the ouster of Mr. Saleh gathered for another day in Sana, the capital, squaring off against government supporters, who held posters of Mr. Saleh. Some protesters shouted, "Be peaceful!" but the calls were drowned out as the two sides hurled bottles, rocks and shoes at one another. Government supporters fired at the protesters and one wounded man, his chest bloodied, was carried away.
As protesters fled, government supporters celebrated by chanting, dancing and waving jambiyas, curved ornamental daggers.
"They want to stir up the trouble," said one of them, Amin Rafiq.
In Egypt, the interim military government took more small steps toward a handover of power. State television reported that that within six months the government would end the so-called emergency law which has allowed detentions without charges or trial for 30 years. The judge who is heading a committee to draft constitutional amendments said his panel might produce its recommendations as early as Sunday, for a referendum in less than two months.
And the government recognized the first new political party formed since the revolution, a moderate Islamist group that broke from the Muslim Brotherhood and has sought recognition without success for 15 years.
In Tunis, the capital of Tunisia, thousands of protesters paraded peacefully Saturday in one of the largest demonstrations since President Zine al- Abidine Ben Ali fled the country in January. Protesters, who held placards saying, "Politics ruins religion and religion ruins politics" demanded a continuation of the country's secular traditions.
Tunisia has been beset by continued protests and strikes as the country's caretaker government struggles to set a course toward multi-party democracy.
The government signed an amnesty decree on Saturday that would free prisoners convicted of crimes related to state security or political or union activities.
In northern Iraq on Saturday, a demonstration in the normally stable Kurdistan region ended with gunfire for the second time in less than a week as gunmen wearing civilian clothes fired on a group of students from the University of Sulaimaniya, wounding 12 people. It was not clear whether the shooters were public security forces or private guards.
Hundreds of students chanting anti-government slogans had gathered to demand that the government apologize for a demonstration Thursday during which private security guards fired into a crowd of protesters in Sulaimaniya as they tried to storm the offices of the Kurdistan Democratic Party, which is led by the semiautonomous region's president, Massoud Barzani. One person was killed.
In Kuwait, the Reuters news agency reported Saturday that police fired tear gas at about 300 Arabs demanding citizenship in the second consecutive day of protests in a village outside Kuwait City, the nation's capital.