After Egypt, many protests against ME regimes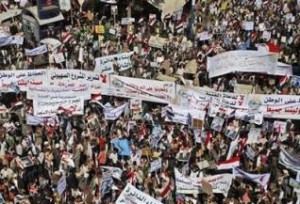 Several countries in the Middle East have been the scene Monday of demonstrations against the ruling regimes in the wake of those that led to the departure of Egyptian President Hosni Mubarak.
* The most important events took place in Yemen, especially in the capital Sana'a, where protesters were lightly wounded in clashes.
* "After Mubarak, Ali," chanted thousands of protesters, mostly students and lawyers, referring to President Ali Abdallah Saleh, in power for 32 years.
* The protesters tried to march on Tahrir Square (Liberation) – which bears the same name as that of Cairo – but security forces have set up barbed wire to stop them.
* Hundreds of supporters of the General People's Congress (GPC, the ruling party) then attacked the demonstrators with batons and stones, according to an AFP correspondent on the spot.
* Some demonstrators were injured . The BBC correspondent in Arabic, Abdullah Ghorab, his face covered with blood, told AFP he had been beaten "by men of the party in power."
* The demonstration, like those held in recent days, was organized at the initiative of students and components of civil society. The parliamentary opposition, which has agreed to resume dialogue with the regime of President Saleh, is not associated.
* In Taiz, south of the capital, thousands of people have also called for regime change, and eight people were injured when police dispersed the demonstration, witnesses said.
* In Iran, thousands of people tried in the afternoon to assemble at various points in central Tehran, while police and riot police deployed largely tried to stop them, witnesses said, and several opposition sites.
* Clashes broke out between anti-government protesters and police, who used tear gas, according to testimony gathered by the AFP.
* In Bahrain, despite the ban on their rally launched on the Internet, dozens of people have tried to demonstrate in Nouidrat before being dispersed by police who used tear gas.
* A police source said that no arrest occurred.
* On Facebook, users were asked to "revolt" in this small Gulf country, inviting them to a big rally on Monday afternoon.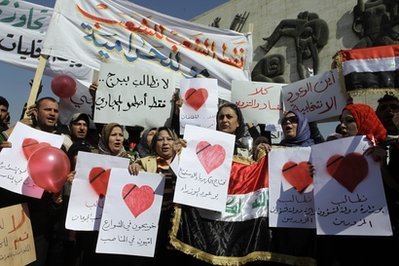 * In Iraq, the event was meant to be romantic, to mark Valentine's Day: a few hundred young people gathered, with pink and red balloons in the center of Baghdad, to express "the love of their country" and criticizing the greed of executives.
* Iraqi Prime Minister Nouri al-Maliki said that the demands of protesters were "legitimate" and that ministers need to act to satisfy them.
* In a friendly atmosphere, protesters chanted including "Sharks, see the suffering of hungry."