Hariri challenges Hezbollah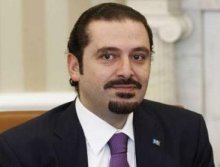 In an emotional speech to thousands of supporters in Beirut, Outgoing Lebanese Prime Minister Saad Hariri issued a direct challenge Monday to the Shiite Hezbollah movement — and said his political bloc would not join the government now being formed.
Hariri, the son of assassinated Prime Minister Rafik Hariri, told the rally that his movement stood for freedom and Lebanon's sovereignty rather than holding onto power. The speech is widely regarded as a watershed in Lebanese politics as a new alignment takes shape.
The leaders of two Christian parties allied with Hariri's Future movement also spoke at the rally. Last month Hezbollah and its allies ousted Hariri as prime minister — mainly because they want Lebanon to reject the international tribunal that is investigating Rafik Hariri's murder.
The tribunal is widely expected to issue indictments against several Hezbollah members — but so far none has been made public. Hezbollah says the tribunal is a tool of the United States and Israel. But Saad Hariri said the tribunal was not against the Shiite sect but against the criminals who killed his father.
Hariri also said it was not acceptable that the issue of Hezbollah's weapons could not be raised in public. He also attacked Syria's role in Lebanon. CNN