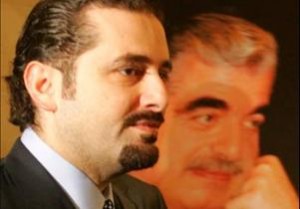 Outgoing Prime Minister Saad Hariri addressed the participants at Biel during the ceremony commemorating the 6th anniversary of the assassination of his father Lebanon's former Prime Minister Rafik Hariri.
– On my desk there are two pictures: one of my father who was assassinated on Feb 14, 2005 and another of the crowds gathered on March 14, 2005.
– Rafik Hariri became a martyr six years ago because he said no to granting the fate of Lebanon and changing its truth, because he said no to a security regime, because he said no to renouncing the Taif Accord, because he said no to changing the image of Lebanon, the free, sovereign and independent, and [this is why] they killed him on February 14, [2005].
– The Lebanese people gathered in the hundreds of thousands to say no. No to oppression, no to assassination, no to changing the image of Lebanon.
– They said no to mandate, no to fear and no to a terrorist crime, so they triumphed on March 14, 2005.
– This is why I keep these two pictures.
– I entered political life after my father was murdered. Those are my roots, and I will not renounce my roots.
– When they came and told me take these photos down and renounce them so we let you [become] the country's premier, my answer was, 'These are my roots and I will not give up on my roots.'
– My answer was that the premiership is an honest expression of the Lebanese people who voted in the elections. Go ahead and forge the will of the Lebanese, but I, Saad Rafik Hariri, will stick to these roots, and I will not give up on them.
– Now, with you, I go back to my roots and how wonderful it is to go back to these roots.
– All we want is the truth, not the rule. All we want is justice, not the rule. All we want is law, not the rule. All we want is freedom, not the rule. All we want is independence, not the rule.
– The Lebanese who protested in Martyrs' Square do not belong to anyone. Not to the phalange Party, not to the Lebanese Forces, not to the Progressive Socialist Party nor to the Future Movement; the blood of our martyrs does not belong to anyone.
– The blood of [martyrs] is that of the people who gathered in Martyrs Square after February 14, 2005. Those Lebanese people still stick to justice, truth and the Special Tribunal for Lebanon (STL).
– This tribunal is not American, French or Israeli. It does not target any sect or party. This tribunal will punish, god-willing, the terrorist murderers, who [killed] our martyrs, [primarily] headed by Rafik Hariri.
– This tribunal will accuse individuals and should be based on proof and evidence. Then, if anyone wants to place himself in the circle of the accused, it is his choice. As for us, we will support the STL and its rule and will never implicate a [particular] party or sect in the killing.
– We were never and never will be in the seat of confrontation with any sect, Shia or other. This is the school of Rafik Hariri.
– The Shia Lebanese and Arab sect is fundamental in Lebanon, and all Lebanese people are its partners in building the state and facing the Israeli enemy.
– Do not listen to those who tell you that the STL is targeting the Shia. Instead, look at the motives behind these statements and where they are taking us.
– Brothers and sisters, as you know, and before February 15, 2005, I was one of the Lebanese youth trying to succeed. I entered [politics] suddenly and without being [warned]. At times, I have made right [decisions] as well as wrong [ones].
– But I believe I was right when I called for national unity.
– This country cannot be ruled by one person, one party or one sect. If any party or sect believes today that it can rule alone, let it try, but it is living in a great illusion.
– We offered our hand [in cooperation]… and our mistake was that we offered our hand honestly, because we thought that this country is an expression of partnership. But every time, we were met by deception [from the March 8 coalition].
– We have endured the unbearable. Some can say that we made mistakes, but thank God, we have never used arms [to reach our goals]. We have not obstructed dialogue and we have not closed parliament .
– Our project is to abide by the constitution.
– We do not accept submitting to weapons that become a means of blackmail, or when they becomes an instrument of pressure on MPs.
– The arms pointed against the Lebanese people are arms of strife and serve Israel.
– We will keep supporting the Palestinian cause and their right of return to their territory.
– Friends, let me be honest in this issue: No one can say that the Lebanese are not allowed to talk about the use of arms.
– This issue is a fundamental matter of dispute. It is related to the constant use of these weapons [against other Lebanese parties].
– I praise the March 14 alliance's welcoming of the Dar al-Fatwa statement [of last week], especially regarding the use of weapons to make others submit.
– A lot was said regarding my relations with Syria. Yes, I went to Syria as the country's PM and as Rafik Hariri's son. All I wanted was to ensure Lebanon's higher interests that intersect with Syria's interests. I did not go to Syria for personal reasons or to ask to remain in power.
– I went to Damascus every time with my head high.
– I traveled everywhere, from Washington to Tehran, why should I not visit Syria a few times for the sake of our country.
– Regarding the Saudi-Syrian initiative that was launched to preserve Lebanon's stability, ever since and until today, I remained silent regarding the Saudi-Syrian efforts in order not to obstruct it. But today I will speak.
– This initiative was based only on being ready to take part in a national conciliatory conference that will be based in Riyadh, sponsored by the Saudi King Abdullah bin Abdel Aziz and in the presence of President [Michel Suleiman] and Syrian President Bashar al-Assad… In this conference, all Lebanese parties would be expected to reconcile, after which the repercussions of the STL indictment would be the responsibility of the Lebanese parties to contain.
– Yes, this is the Saudi-Syrian initiative. We made a mistake, yes, because again we were met with calls to surrender. Our answer to them was that we come from a school that [teaches others] that no one is bigger than their country.
– I tell you, there will not be going back to Saudi-Syrian talks. Those who have doubts of severing Lebanon's relations with the STL, I say that I have two pens: the pen of Samir Kassir and the pen of Gebran Tueini.
– In front of me I have two contracts, one [former minister] Pierre Gemayel's and one [former MP] Walid Eido's. Which of the pens should I sign with and which of the contracts should I tear?
– They thought that we were afraid of giving up on the rule. We believe in the constitution, that is why we went to the premiership consultations.
– We only adhere to our democratic system and constitution. Congratulations to [March 8] for winning the kidnapped rule.
– Having a central position is a decision, not the absence of it and giving in to it. But my friends there is no centrality between justice and injustice, between sovereignty and mandate.
– The most important thing is that there is no honesty and deception between loyalty and treason.
– I address those who [forced the collapse of my government], and thank them for letting me go back to my roots.
– We are now in the opposition based on committing to the constitution and STL, and protecting the Lebanese people from the use of [non-state] weapons.
– Yes, we are the ones who started the road of freedom. To this road, we will all come back. We will follow it with you, whose voices will be heard.
– We will all gather on March 14, 2011 to say no. No to the change our lifestyle, no to corruption, no to fear, no to oppression, and no to crime.
– Long live Lebanon and the Cedar Revolution. Now Lebanon