About 40 killed in huge Israel forest fire near Haifa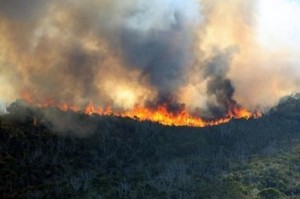 Around 40 people are believed to have been killed in a devastating forest fire raging out of control near Israel's northern city of Haifa, the country's ambulance service said on Thursday.
Officials described the inferno as among the worst in the nation's history, with hundreds of firefighters on the ground and in the air battling to tame the blaze.
Israel's ambulance service Magen David Adom said its paramedics were on the ground treating people caught in the flames.
"There are about 45 casualties, of whom about 40 are dead," the ambulance service said in a statement.
Witnesses reported gruesome scenes.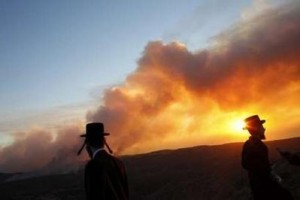 Fireman Dudu Vanunu told Channel Two television he saw flames consume a bus believed to be trying to evacuate people ahead of the enormous fire.
"Anyone who's ever seen a firestorm will know. They could not survive it, they had no protection, they just fell to the road and burned alive," he said.
Public radio reported earlier that a bus carrying 50 people had overturned while trying to escape the blaze and had been caught in the fire.
The Zaka organization, which specializes in recovering human remains in accordance with Jewish religious law, put out a call for all its volunteers to report to the area.
"To my regret, people have lost their lives," Eli Bin, the head of the Israeli national ambulance service, told public radio.
Police said they evacuated the Damon prison, which mainly houses Palestinian security prisoners and those found in Israel without permits.
Police spokesman Micky Rosenfeld said that about 20 families from the Arab village of Ussafiya had been evacuated from their homes as flames swept through the pine forest covering the Carmel hill ridge, one of Israel's most popular beauty spots.
Yoram Levy, a spokesman for the Israeli Fire and Rescue Commission, said emergency workers had evacuated the nearby Beit Oren Kibbutz and a luxury hotel in the path of the fire.
"It's one of the biggest fires we've ever had. In 1998 we had one like this, but not since then," he told AFP.
At 4:30 pm (1430 GMT) Levy said the blaze was still burning out of control.
"It's not getting better, and it's getting dark," he told AFP.
He said around 100 firefighters were tackling the flames, including some of the Israeli military, and helicopters and other aircraft were spraying the fire with water from the air.
Witnesses reported fire services from throughout Israel were rushing to the scene. The radio reported that 40 fire engines and six aircraft were seeking to control the flames.
After a long, dry summer Israel is experiencing an unusually warm and dry autumn.
The Israel Meteorological Service listed the midday temperature in the Haifa area on Thursday as 31 degrees Celsius (87 Fahrenheit) with winds reaching 30 kilometres per hour (17 mph).