Gemayel calls for condemning Israeli plan for Jerusalem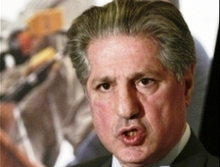 Lebanese former president and Phalange Party leader Amin Gemayel called on the Lebanese cabinet to convene quickly and condemn Israel for its intent to announce Jerusalem a capital for the Jewish people, according to a statement issued by Gemayel's press office on Saturday.
"Such a step defies all religions and the entire world, particularly the Vatican as well as the UN. It must stimulate the national-unity government to overcome its absurd disputes and meet to take a position that would prevent this," Gemayel said, adding that such an Israeli action would put an end to Arab-Israeli peace negotiations.
Gemayel's statement comes after Israeli right-wing Knesset member called for changing the text in the Israeli basic law which describes occupied Jerusalem as Israel's capital into the capital of the Jewish people.
Israeli newspapers reported on Friday that the Israeli ministerial committee for legislation would discuss once again early next week the proposal submitted in this regard by Knesset member Zevulun Orlev.
Zevulun introduced his bill for the first time more than two years ago and the Knesset approved it in its first reading, but the ministerial committee for legislation declined to put it to the vote.
Meanwhile, preacher of the Aqsa Mosque Sheikh Ismail Nawahda warned on Friday that the Mosque is exposed to real dangers threatening its existence and called on the Muslim nation to defend it by all means.
The preacher also denounced the Israeli occupation authority for demolishing Palestinian homes, property and holy sites, especially a Mosque in Tubas city on Thursday.