Hariri arrives in Tehran – update 2
The plane carrying Prime Minister Saad Hariri along with a ministerial delegation landed in Tehran airport about 2 PM Beirut time , MTV reported adding that the PM is scheduled to head to the presidential palace and will also meet with Supreme Leader Ayatollah Ali Khamenei.
An-Nahar newspaper reported earlier on Saturday that Hariri's official visit to Iran was extended from two to three days.
According to observers Hariri's visit to Iran is aimed at seeking its help in preventing political tensions turning violent if a U.N.-backed Special Tribunal for Lebanon (STL) indicts Hezbollah members for killing his father.
Based on reports coming from Netherlands the tribunal could be indicting members of Hezbollah, which is backed by Iran and Syria, as early as Thursday December 2 for the 2005 bombing which killed former premier Rafik al-Hariri and 21 others.
Lebanese officials are hoping that a recent initiative by the leaders of Saudi Arabia and Syria, who back rival camps in Lebanon, will help prevent any escalation. Iran's endorsement of the Saudi-Syrian efforts is vital for their success.
"Hariri's visit … is a piece in the regional movement toward (accomplishing) the deal," Lebanese analyst Oussam Safa said, adding it will give Hariri direct access to Iran without having to go through Tehran's allies — Hezbollah or Syria.
"It will help Hariri to get Iran's support in calming Hezbollah's reaction if the indictment is issued," he said.
Iran's envoy
Iranian Ambassador to Lebanon Ghazanfar Rokn-Abadi told the An Nahar on Saturday that Hariri's visit is aimed at "breaking all psychological barriers, restoring matters to their right course, and bolstering cooperation in all fields."
He added: "Iran's policy is aimed at thwarting the plan to create sectarian strife in Lebanon and at displaying openness with all political forces."
"We in Iran want to reach the truth in the assassination of former Prime Minister Rafik Hariri and it's necessary to uncover the perpetrators as soon as possible because justice is justice anywhere," he continued.
"We refuse to enter debates over the Special Tribunal for Lebanon as it is an internal Lebanese affair … while Israel is seeking to create strife through employing the tribunal and the indictment for sectarian incitement," Abadi stressed.
The ambassador denied allegations that Iran was unhappy with Turkish Prime Minister Recep Tayyip Erdogan's recent visit to Lebanon.
Iran's influence
On Friday, the Qatari newspaper Al-Sharq quoted Egyptian Foreign Minister Ahmed Abul Gheit as saying that "Iranian interventions in the internal affairs of the Gulf must not be allowed. We say to our brothers in Iran… Iraq must be left alone and Lebanon must be left alone. And Iran should not intrude in Bahrain in any way."
Tehran-Cairo ties have been severed since 1980 following the Islamic revolution in Iran .The two countries have since only maintained interest sections in each other 's capitals.
Mainly Sunni Muslim countries in the Arab world, such as Saudi Arabia, are also concerned about Shiite Iran's support for Hezbollah in Lebanon and the Palestinian Islamist movement Hamas.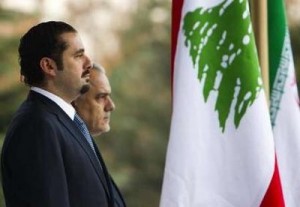 Update: Iran's First Vice President Mohammad Reza Rahimi met Lebanon's Prime Minister Saad al-Hariri at the airport
Update: Hariri, who is accompanied by a high level delegation delegation met with an Iranian delegation headed by Iranian Vice President Mohammad Reza Rahimi in Tehran on Saturday afternoon.
The talks included discussions on bilateral relations and regional politics, a statement from Hariri's office said.
Following the initial talks Hariri headed to Esteghlal Hotel where he is staying. He met there with a group of Arab ambassadors to Tehran, headed by Kuwait's Ambassador Majid Zafiri, in the presence of the Lebanese delegation.
Discussions focused on the situation in Lebanon and the issues that will be tackled during Hariri's visit to Tehran.
The talks with Rahimi and other key Iranian officials will continue in a meeting to be held on Monday evening followed by a dinner in Hariri's honor, after which he will meet with Arab ambassadors residing in Tehran, the statement said.
Hariri will also meet with Iranian Supreme Guide Ayatollah Ali Khamenei on Sunday afternoon and with Iranian Parliament Speaker Ali Larijani and Iranian President Mahmoud Ahmadinejad Sunday evening, the statement said.