Peaceful voting in Bahrain, report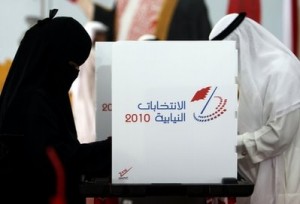 Hundreds of Bahrainis turned up at various polling stations throughout the day on Saturday to cast their votes in the country's third parliamentary elections since 2002.
The overwhelming turnout, especially that of women, came as a pleasant surprise. There were fears, stoked largely by some regional and Western news agencies, that a large section of society might boycott the electoral process in protest against the government's crackdown on "anti-national" activists. Those fears turned out to be untrue.
At every single polling station that Arab News visited in the morning and afternoon, there were men and women clutching their red-colored Bahraini passports and waiting for their turn to cast their vote. Some brought their children along with them. The atmosphere was celebratory in many key constituencies.
Ayaz Jaan Nazir Ahmed, his wife Mona and their colorfully dressed daughter Munira were among the first people to turn up at the polling station in Riffa district.
"We are very impressed with the arrangements. For us, taking part in elections is nothing short of a national duty," said Ayaz, speaking on behalf of his family.
At the same polling station, Nazir Salman and his family members voted for the Al-Wefaq political group. "Al-Wefaq leaders have been at the forefront of highlighting our political issues," he said. "So we need to strengthen their hands, especially since they are in the line of fire. Our vote is to provide them with a shield for protection."
All eyes are on Al-Wefaq because it is the one party that articulates the opposition viewpoint. The other groups are closely aligned with the ruling establishment.
In 2006, Al-Wefaq was the single largest political group, having won 18 seats. This time it is contesting 18 seats. Its leaders are confident of making a clean sweep. However, most of those arrested three weeks ago for what the government describes as terror-related charges were Al-Wefaq supporters. If Al-Wefaq manages to maintain its 2006 tally, it would be seen as a big achievement.
Despite winning 18 seats last time, Al-Wefaq had to sit in the opposition because other groups such as Al-Asalah, Minbar and Mustaqbal formed the majority through a coalition. This time, there are many independent contestants and it will be interesting to see which way they will align should they win.
From the government's point of view, the huge turnout is an indication of the average Bahraini's faith in the system of governance. "Each vote that was cast on Saturday was for the security and stability of our kingdom," said Foreign Affairs Minister Khaled Ahmed Al-Khalifa. "Each vote reinforces our citizens' faith in our system."
According to him, the elections have gone according to plan. "There were a few cases of poll violations and the authorities are looking into them. These things are normal in elections. But the bigger picture is the peaceful and smooth conduct of the elections," he said.
Replying to a question from a journalist about Bahrainis voting along sectarian lines, the foreign minister said: "We don't use sectarian terminology. Everybody is a citizen of Bahrain. All those who chose to contest the elections are our people. All those who voted for them are our people. They will eventually sit in Parliament and legislate on behalf of the people of Bahrain. We are proud of what the Bahraini people have achieved today. They have become a role model for countries that are aspiring to take the route of democracy and freedom."
Bahraini Prime Minister Prince Khalifa bin Salman Al-Khalifa, who cast his vote in the morning, paid tribute to the Bahraini people for demonstrating a high degree of political awareness and maturity. "We are fully confident that the citizens have voted for those who deserve their votes," he told visiting journalists from around the globe who converged on the Bahraini capital to cover the elections.
He promised constructive and fruitful cooperation of his government with the elected people's representatives.
"Today represents a historic consensus between all Bahrainis because all citizens showed great determination to take part in the polls and to choose their representatives," he stressed. "We are all one unified people, under the banner of King Hamad bin Isa Al-Khalifa."
He hoped that more women candidates would win in the elections. "We hope our women will secure a greater presence in Parliament," the prime minister said and described the role of women as pivotal and crucial in the country's progress.
"We are very confident that the cooperation between the government and Parliament in the new term will be even stronger than last time," he said, describing Bahrain's democratic experience as finally coming of age.
"Parliament reflects the Kingdom of Bahrain because it brings together under one dome representatives of all groups — thus epitomizing national unity and collective determination to take part in building a modern and strong Bahrain. Elections are a process of co-opting people in decision-making," he said, hailing people as the source of authority.
Government critics admitted that turnout was high and beyond expectations. "It was an overwhelming turnout," conceded Mansoor Al-Jamri, editor in chief of the opposition-leaning Alwasat newspaper.
"Three weeks ago people were very upset with the government's crackdown on political activists," he told Arab News.
"What incensed the people more was the government's description of these political activists as terrorists. It is rather strange. Anybody who opposes the ruling establishment is described as a terrorist. So, the mood in the past few days was very grim and pessimistic and people were openly talking of boycotting the elections."
He added that the leaders of the group whose activists were arrested told their supporters that the crackdown was aimed at keeping them out of the electoral process.
"So they asked their supporters to take an active part in the elections, and they followed the advice of their leaders," said Al-Jamri, adding that the results will deliver a lot of surprises.
"I want to see how candidates of the leftist-liberal grouping Al-Waad will perform. I want to see if Munira Fakhro will win or lose. If she wins it will be a surprise and if she loses it will still be a surprise."
Two leading opposition groups, meanwhile, complained of irregularities and said names of their supporters were missing from the voter list. The government responded by saying they may not have registered with the Election Commission beforehand.
Election Commission official Khaled Ajaji said: "There were a few such insignificant cases. The blame lies with the voters because they did not check with the published registry that was posted online and at the centers from Sept. 21 to Sept. 27."
There were also reports of a few skirmishes in some outlying areas. Local journalists said they saw riot police rounding up a couple of trouble-making youngsters.
More than 300,000 people over the age of 20 were eligible to vote for 127 candidates, vying for 35 seats in the 40-member lower house of the bicameral National Assembly.
Seven of them are women. Five parliamentary candidates have already secured their seats unopposed, including the only woman member of the last parliament chosen in 2006, Latifa Al-Gaoud.
Results of the vote are expected early Sunday. Arab News