Leigh cancels Israel trip, upset over loyalty oath bill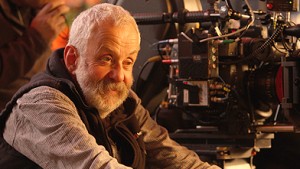 Award-winning British filmmaker Mike Leigh has cancelled a trip to Israel, in which he was to lead workshops with film students, to protest against Israeli policy.
The 67-year-old director of acclaimed films such as Life is Sweet, Topsy Turvy, Secrets & Lies, Vera Drake and most recently, Another Year, was to arrive Nov. 20 for a one-week stint at the Sam Spiegel Film and Television School in Jerusalem.
He was also supposed to give a lecture to Palestinian moviemakers at the Jenin Cinema.
According to the newspaper Haaretz, Leigh, who is Jewish, wrote a letter to the school saying he opposed Israel's policies on Gaza and calling the loyalty oath requirement the "last straw." The requirement, which the Israeli cabinet approved last week, obligates non-Jewish immigrants to pledge loyalty to a "Jewish and democratic" state.
Leigh last visited Israel in 1990 and said he has stayed away in protest. In his letter, he said he considered withdrawing last spring from the November visit after an Israeli raid on a flotilla of Gaza-bound ships resulted in nine deaths. Leigh said he reconsidered the visit once again when the Israeli government said it would resume allowing new building in the West Bank.
But the loyalty oath legislation was the last straw, Leigh said. He added that he would not visit would Israel again until there was a "just solution" to the Palestinian issue.
He also apologized to the students and staff of the film school. CBC