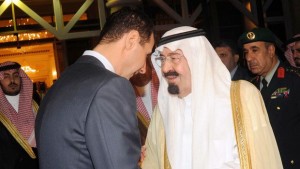 Saudi Arabia's King Abdullah held wide-ranging talks Sunday with Syrian President Bashar Assad which touched a range of bilateral and regional issues with special reference to the fate of the UN probe into the assassination of former Lebanese Premier Rafik Hariri, the political void in Iraq and an Arab response to the continued Israeli settlement.
The meeting also discussed ways and means to settle the internal bickering of Palestinian factions, the Saudi Press Agency reported. The talks, which also covered major regional and international issues, were held at the Royal Terminal of the Riyadh Air Base.
"The summit-level talks here on Sunday were focused on how to step up efforts to ease the political crisis in Lebanon over the UN probe," said a Syrian diplomat, adding that the talks also covered many other issues of common concern.
President Assad, he said, was in Riyadh just three days after the visit of President Mahmoud Ahmadinejad to Lebanon, where the Iranian leader pledged support for Hezbollah. The visit of the Iranian president raised many questions at the regional political and diplomatic levels.
On arrival at Riyadh Air Base on Sunday evening, Assad was received by King Abdullah and senior Saudi officials. The Syrian president was accompanied by Foreign Minister Walid Al-Muallem. This is Assad's second trip to the Kingdom this year which is indicative of the progressively growing relations between Riyadh and Damascus.
Asked about the details of the talks, the Syrian diplomat said that King Abdullah and Assad discussed "all new developments in the Arab and Islamic world, while they also reviewed their positions on different issues."
On the question of the situation in Lebanon, he said the talks would make the Lebanese political forces realize that they see themselves as guarantors of stability. "The Saudi and Syrian push will go a long way in helping the process of peace, security and unity in Lebanon in particular and the Middle East in general," he added.
Political uncertainty in Iraq also figured prominently in the Riyadh talks. The key issue for the two sides, however, was Lebanese Prime Minister Saad Hariri's dispute with Hezbollah over the UN-backed tribunal on his father's murder.
The two leaders also discussed prospects of further strengthening bilateral relations, the Saudi Press Agency said. The Syrian leader left the Kingdom after a short visit. King Abdullah was present at the airport to see him off.
Assad last month separately met US envoy George Mitchell, who is trying to rescue Israeli-Palestinian talks, and Jean-Claude Cousseran, who was appointed by French President Nicolas Sarkozy to pursue the Syrian-Israeli track. Arab News