Reaction to Feltman's visit to Lebanon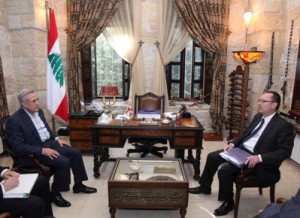 Assistant US Secretary of State for Near Eastern Affairs Jeffrey Feltman arrived in Beirut from Riyadh on Sunday and met with President Michel Suleiman to deliver a message from US President Barack Obama reaffirming US commitment to a "stable, secure, independent and sovereign Lebanon."
The message delivered by Feltman said that the region might be engaged in a period of instability and that Lebanon must protect itself through international decisions, Al-Liwaa newspaper quoted an unnamed source as saying on Monday.
As-Safir newspaper , another pro-Syrian newspaper quoted on Monday an unnamed source as saying that Feltman warned President Michel Suleiman about reactions to the Special Tribunal for Lebanon's (STL) indictment.
Feltman reiterated that the STL's work should not be obstructed until suitable verdicts are issued, As-Safir source added.
Jumblatt
Feltman met with Progressive Socialist Party leader MP Walid Jumblatt as soon as he arrived in Lebanon
Ad-Diyar newspaper quoted on Monday an unnamed March 8 coalition source as saying that Feltman warned Jumblatt against transferring the false witnesses file to the Justice Council because such an action would negatively affect the Special Tribunal for Lebanon's (STL) indictment.
The outcome of the Sunday meeting between Feltman Jumblatt was not positive, an unnamed source told the pro-Syrian Al-Akhbar newspaper on Monday.
Berri
An-Nahar quoted on Monday Speaker Nabih Berri as saying that Feltman came to Lebanon to say "to whom it may concern, the US is here."
An-Nahar also quoted on Monday an unnamed source close to the speaker as saying that Berri was unable to meet with Feltman during his visit to Lebanon because it conflicted with schedules and appointments. Berri however is counting on Jumblatt to brief him on the visit.
President Michel Suleiman called Berri and discussed Feltman's visit with him, and said that it was made for the sole purpose of emphasizing adherence to the Special Tribunal for Lebanon (STL), An-Nahar reported.
Hariri
Ad-Diyar newspaper also reported that Feltman met with Prime Minister Saad Hariri in Riyadh where he informed the PM of US support for the Lebanese government and the STL.
No change in US commitment
A ministerial source said that US Assistant Secretary of State for Near Eastern Affairs Jeffrey Feltman's visit shows that the US concern about Lebanon has not decreased as some impressions have implied lately, An-Nahar newspaper reported on Monday.
Press conference
Just before departing , Feltman held a press conference at Beirut airport.
Feltman told reporters that the US supports the Tribunal but no one knows the content of the indictment or when the indictment will be issued and stressed that this matter should be left in the hands of the independent judicial authorities (STL) .
In response to a question about president Mahmoud Ahmadinejad's visit, Feltman said" This is a bilateral issue between Lebanon and Iran. I leave it to the Lebanese to interpret what this visit means." He added that Americans treasure Lebanon's pluralism and dynamic democracy, voicing hope that "Ahmadinejad would learn something from Lebanon to take back to Iran."
Asked to comment on the tension in Lebanon he said : "We're trying to work on lowering tensions in Lebanon."
"A strong, sovereign and stable Lebanon is in the vital interests of the Lebanese people, the region, the US and the international community," Feltman said, adding that "we are concerned by any act undermining sovereignty and stability."
Feltman also said that there was no connection between his special visit to Lebanon and the talks he just held in Riyadh, saying that his Saudi trip was a routine bilateral visit in which he discussed a number of issues, including "shared support for Lebanon."