Abbas: Arab peace initiative only way to make peace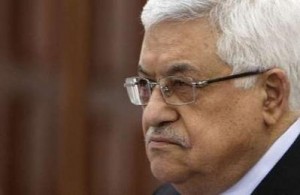 The Arab peace initiative is the only way to end the current peace impasse, Palestinian President Mahmoud Abbas said on Sunday.
"Dangerous consequences will engulf the region if the peace process collapsed," Abbas said when meeting with Confederation of German Trade Unions (DGB) President Michael Sommer in Ramallah, the official Palestinian Wafa news agency reported.
Meanwhile, Abbas urged the international community to press Israeli Prime Minister Benjamin Netanyahu to stop the settlement construction to pave the way for the resumption of the peace process.
Saudi Arabia proposed the peace initiative in 2002, later adopted by the Arab League, which offers peace to Israel in exchange for all Arab lands seized by the Jewish state in the 1967 Middle East war.
The U.S.-mediated direct peace talks hit a brick wall several weeks after they started on Sept. 2 as Israel turned down a Palestinian demand to extend an Israeli previous order of settlement construction moratorium that expired on Sept. 26.
Rise in extremism
In an interview with Israeli public television on Sunday Abbas warned against a rise in extremism if the ongoing peace process failed,
"Desperation will feed extremism," Abbas said adding that he hoped that US efforts to end a deadlock in peace talks would succeed.
Israel and the Palestinians began face-to-face negotiations six weeks ago, but the talks look set to collapse following the end of an Israeli ban on settlement building which expired on September 26.
Israel has refused to reimpose the moratorium, while the Palestinians say they will not talk while settlers build on occupied Palestinian land, prompting a flurry of US diplomatic efforts to resolve the deadlock.
Abbas also reaffirmed that the Palestinians did not have to recognize Israel as a "Jewish state," as demanded by Prime Minister Benjamin Netanyahu in return for a possible settlement halt.
He said the Palestine Liberation Organization had recognized Israel's right to exist in 1993 in the Oslo accords where both sides mutually recognized each other.
"It's enough that we have recognized Israel… but do not ask us to recognize it as a Jewish state," he said, adding: "Every day you (the Israelis) come up with a new demand. Enough is enough." Xinhua , AFP