Gemayel: Ahmadinejad statements confirm his war mentality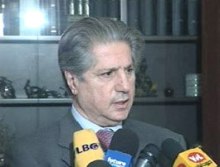 Lebanese former president and Phalange Party leader Amin Gemayel told BBC TV on Saturday that "no one denies the existence of false witnesses, but the affair is that of the Special Tribunal for Lebanon (STL)," adding that when issues are clarified, a credible trial can be held.
"We have full confidence that the international judiciary is credible," Gemayel stressed
Gemayel criticized Iranian President Mahmoud Ahmadinejad's statements  made during his visit to Lebanon calling them "embarrassing to some Lebanon parties."
"The Iranian president is getting ahead of himself through his statements and they confirm his war mentality and intention to transform Lebanon into a permanent battlefield to confront Israel, Gemayel said
"Hezbollah is calling for liberating the lands occupied by Israel , but it never announced that it wants to wipe Israel out of existence, like Ahmadinejad did in his speech in Lebanon ," Gemayel added
Ahmadinejad ended his two-day visit to Lebanon on Thursday. Prior to departing from Lebanon Ahmadinejad met Hezbollah Secretary General Sayyed Hassan Nasrallah Thursday evening at the Iranian Embassy in Beirut.
Reaction to Ahmadinejad's visit was mixed but as expected March 14 leaders did not share the enthusiasm of Hezbollah led March 8 alliance.