Hezbollah, Jamaa Islamiya condemn LBC's 'Kalam An-Nas' talk show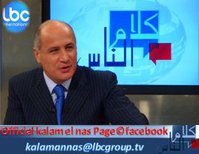 Hezbollah issued a statement to condemn Thursday's 'Kalam An-Nas' talk show with Marcel Ghanem on the Lebanese Broadcasting Corporation (LBC).
The statement read:
"We at Hezbollah categorically condemn the ugly act of incitement as perpetrated byLBC, and we deem it to be a contribution and intentional propagation of sedition in Lebanon by the administration of this television station, particularly between Shiite and Sunni Muslims. We also regard it as an abuse of public freedom in Lebanon. "
Hezbollah called on the" Lebanese judiciary and relevant authorities including the Ministry of Information and the National Media Council to act responsibly in front of this real media crime that was committed last Thursday, and repeated again through a rerun of the episode, thus showing that the television station's deed was premeditated," the statement concluded.
Similarly Jamaa Islamiya also condemned the episode, saying that it provoked sectarian sentiments and encouraged strife.
In a statement the group said that the episode encouraged the resorting to arms and deliberately tarnished the history and current reality of the northern city of Tripoli.
Information Minister Tarek Mitri phoned LBC's chairman Pierre Daher after receiving several calls expressing surprise over the content of the episode.
Daher said he understood the reactions and voiced his readiness to shorten the airing period of the upcoming "Kalam An-Nas" episodes, tackling the same topic.
Ghanem hosted a group of youth from the Alawite, Sunni, Shiite and Christian communities and asked questions such as: "Will you face Hezbollah if it decided to react using arms over the indictment?"
He also aired testimonies of victims of clashes between pro-government and Hezbollah gunmen in May 2008.
Tension escalated in Lebanon following reports that the Special Tribunal for Lebanon will soon issue its indictment into the 2005 assassination of Lebanon's former Prime Minister Rafik Hariri. Last July, Hezbollah Secretary General Sayyed Hassan Nasrallah said that the tribunal is "an Israeli project" that will indict Hezbollah members. Nasrallah accused Israel of being behind Hariri's assassination but refused to provide the evidence to STL to support his claim.
There are concerns that should the court indict Hezbollah members, it could lead to clashes similar to those of the May 7, 2008 Events when the Iranian backed Shiite militants occupied the Sunni part of Beirut and tried but failed to occupy the Druze stronghold of Mt Lebanon