Things Are Happening in Hamra
By Seth Sherwood Take one of Beirut's battered 1970s Mercedes taxis through the city center and you'll chance across plenty of gold-plated names these days.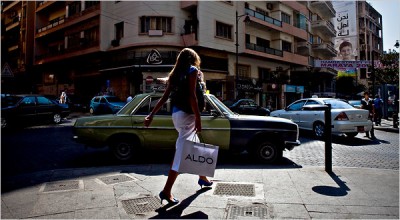 By Seth Sherwood
Take one of Beirut's battered 1970s Mercedes taxis through the city center and you'll chance across plenty of gold-plated names these days.
Here, splayed across one of the plywood walls that surround proliferating construction sites is the logo for Norman Foster's architectural firm, announcing a trio of residential towers. There, on a billboard down the street from the glitzy Buddha Bar is the signature bald head of the French architect Jean Nouvel, who's creating a complex called, modestly, The Landmark.
Thanks to a couple of years of relative stability, this Middle Eastern capital is building like the Pharaohs. But the boom has come at a cost. Older buildings, full of wonderful Arabian details, have been demolished. People on five-figure incomes have been priced out.
Fortunately, there is an antidote. When the personality of the city starts to feel stifled by steel and glass, I often catch a taxi and tell the driver the one word that embodies all that is most dynamic, inspiring and authentic about Beirut: Hamra.
Long the center of intellectual life and leftist politics before the 1975-1990 civil war, this neighborhood of venerable six-story apartment buildings, leafy university campuses and teeming street life has been undergoing a renaissance of its own. A spate of new book-lined Wi-Fi cafes, contemporary art spaces, cozy bars, and eclectic music clubs are helping re-establish Hamra as the city's most progressive, happening corner.
All along the diverse main drag, Hamra Street, fully black veiled Shiite Muslim matrons drift past dolled-up, miniskirted Christian women, and purveyors of Koranic literature share the pavement with slick bookshops selling French-language interior design tomes.
To find some of Hamra's more interesting characters, you might begin by visiting the two-year-old Galerie Tanit, which has joined the older Agial Art Gallery in raising the profile of Hamra as a contemporary art center.
On an August afternoon the walls were decorated with several of large collages by Zena el-Khalil, a 34-year-old author and top Lebanese artist who has lived next to Hamra for years and rhapsodized about the neighborhood in a memoir, "Beirut, I Love You."
In Ms. Khalil's art, cut-outs of Lebanese, Syrian and Israeli characters and icons have been feminized with loads of glitter, fake flowers and rainbows. Plastic pistols have been covered in girly pink paint. But the superficial silliness of the works belie Ms. Khalil's intelligence and compassion.
"I take objects of violence and aggression and über-masculinity and I kind of take them in and spit them out into my world, which is filled with love and beauty and peace," Ms. Khalil said. "Death is a few steps away. And so I think that you develop a kind of humor or irony when you live in a situation like this, and it helps you get through life."
Ms. Khalil offered a quick tip upon parting: Try some of Hamra's new generation of cafes. For the Birkenstock brigades, the hangout of choice is Bread Republic, a two-year-old bakery and cafe that hosts a small outdoor farmer's market on Tuesdays. For the creative set, the new hub is T-Marbouta. Like a java-junkie speakeasy, the space is hidden away on the second level of a humdrum shopping mall (the Pavilion Center) in a ramshackle side street primarily frequented by old Lebanese women eager to snap up cheap plastic shoes.
Within the dark cafe, Gauloises cigarette smoke drifted among the paintings by local artists, exhaled by bespectacled grad students and media types who tap the keys on their MacBooks. The music of Fairouz, the great Lebanese diva, filtered quietly from the sound system.
"From the beginning, T-Marbouta has sought to be politically and socially engaged," read the manifesto on the menu, in English. "An open cultural space where all could come to socialize, read, meet, surf the net, and discuss issues of the day."
Hala Alsalman, a 32-year-old Canadian-Iraqi documentary filmmaker, sat on a vintage couch next to the cafe's separate library, which has film screenings on Monday nights and offers an impressive buffet of books, CDs and DVDs.
She was in Beirut to document the rebuilding of the old, destroyed synagogue in downtown Beirut as part of a film project about Jews in the Middle East. Beirut's Jewish community has dwindled to fewer than 100 people, she said, but the synagogue project has nonetheless won partial funding from Solidaire — the development corporation in charge of rebuilding much of Beirut's downtown — and the green light from Hezbollah, the Shiite Muslim militant organization and political party.
Read the complete article at NY Times