4 arrested over traffic dispute involving MP Hariri's convoy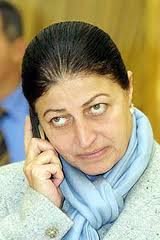 Around 12.30 p.m. on Saturday a traffic dispute over a right-of-way in Haret Saida between a car in MP Bahia Hariri's convoy and another car escalated into gunfire, according to the Lebanese Armed Forces (LAF) Directorate of Orientation.
Four people were arrested
Hariri later clarified that the scuffle was an individual incident that did not target her.
"The army has assumed its role and investigations are underway," she said.
AMAL movement official Bassem Lamaa reiterated the MP's statement, saying it was an individual incident "in every meaning of the term."
He made his statement after holding talks with MP Hariri on Saida affairs.
Al-Jamaa al-Islamiya official Bassam Hammoud who followed up on the incident also confirmed that it was " an individual incident and Hariri was not targeted," the party said in a statement on Saturday.
Prime Minister Saad Hariri, former PM Fouad Siniora, Palestinian President Mahmoud Abbas, Progressive Socialist Party leader MP Walid Jumblatt, and various MPs all called MP Bahia Hariri to check on her according to a statement issued by her office.