Geagea: Egypt, EU will come if civil war breaks out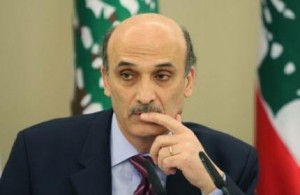 This time, in the event of civil war, Egyptian, Arab and European forces will enter Lebanon, Lebanese Forces leader Samir Geagea was quoted as saying.
Ad-Diyar newspaper, which carried the report, also said that Geagea was quoted as saying Syrian troops will not enter Lebanon in the event the situation deteriorated and civil war broke out in Lebanon.
Geagea's remarks come after Phalange party MP and former minister Elie Marouni told Free Lebanon radio on Saturday that "Syria is waiting for sedition in Lebanon to re-occupy the country."
" Syria still has the intention of returning to Lebanon," Marouni stressed.
Unconfirmed reports reveal that Egypt is preparing to enter Lebanon , should Hezbollah repeat the May 7 incident.
This refers to May 7 , 2008 event when gunmen of a Hezbollah-led alliance occupied the Sunni part of Beirut and tried but failed to occupy the Druze stronghold of Mt Lebanon.
Tension escalated in Lebanon after reports said that the Special Tribunal for Lebanon (STL) will soon issue its indictment into the 2005 assassination of former Prime Minister Rafik Hariri. Last July, Hezbollah Secretary General Sayyed Hassan Nasrallah said that the tribunal is "an Israeli project" that will indict Hezbollah members. Nasrallah accused Israel of being behind Hariri's assassination but refused to provide the evidence to STL. Some March 8 coalition politicians have been calling for the abolition of the tribunal, while Free Patriotic Movement leader MP Michel Aoun and former head of General Security Jamil as-Sayyed publicly attacked the government.