Eid al-Fitr starts Thursday- Update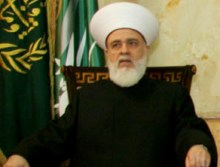 Grand Mufti of the Lebanese Republic Sheikh Mohammad Rashid Qabbani issued a statement on Wednesday that he will perform Eid al-Fitr prayers at the Muhammad Al-Amin Mosque in Beirut at 7 a.m.Thursday
The statement added that Qabbani will receive greetings on the first day of Eid at the Dar al-Fatwa in Beirut from 9 a.m. until 12 p.m.
Eid al-Fitr marks the end of the Ramadan holy month.
Meanwhile President Michel Suleiman congratulated the Lebanese people, particularly the Muslims, on the occasion of Eid al-Fitr, according to a statement issued Wednesday by Suleiman's press office.
Suleiman also voiced his surprise that a group of people intend to burn the Quran on the ninth anniversary of the September 11, 2001 attacks in the United States, saying that such action goes against the teachings of divine religions.
Also PM Saad Hariri extended his greetings to Lebanese on the occasion of Eid al-Fitr and expressed regret for not being able to welcome well-wishers because he is in Mecca for the Umra.
Update:
Lebanon's Dar al-Fatwa announced on Wednesday evening that Thursday (not Wednesday ) will be the last day of the month of Ramadan, adding that Friday will be the first Day of Eid al-Fitr, the National News Agency (NNA) reported.
Al-Arabiya television reported earlier in the day that Saudi Arabia, Kuwait and the United Arab Emirates (UAE) also announced Friday as the first day of Eid al-Fitr.