Iranian president will visit Lebanon Oct13-14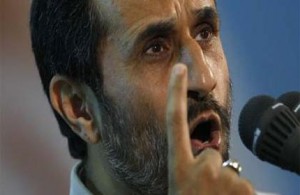 Iranian President Mahmoud Ahmadinejad is scheduled to visit Lebanon on Oct. 13 on a two – day official visit for talks with Lebanese president Michel Suleiman and other key Lebanese officials, according to An Nahar newspaper report .
An Nahar sources said Ahmadinejad has expressed an interest in visiting south Lebanon to inspect the scene of fierce clashes between Hezbollah and the Israeli army and "the victory achieved in the July 2006".
Ahmadinejad will reportedly discuss Iranian readiness to provide "unequivocal" support for Lebanon to face Israeli threats.
Sources taking part in Ahmadinejad's trip preparations told An-Nahar that the Iranian President will also renew his offer to provide military assistance to the Lebanese army.