Berri: Relaunched peace talks could raise border tensions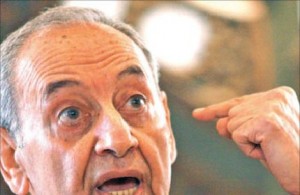 Lebanese parliament speaker warned on Wednesday that the relaunched Middle East peace talks could raise tensions on the border with Israel and ignite clashes in Palestinian refugee camps.
"These talks will no doubt cover (Palestinian) refugees, water and oil in the region," speaker Nabih Berri said in a statement.
"All of this may… ignite clashes inside Lebanon's refugee camps and affect security in the south," said Berri, an ally of Lebanon's Islamic militant Hezbollah movement that opposes the peace negotiations.
In his speech via a video link on the occasion of World Jerusalem Day Hezbollah chief Hassan Nasrallah attacked the direct peace talks between Israel and the Palestinians.
"The revived Middle East peace talks are "born dead". The majority of Palestinian factions rejected such negotiations. ", he said adding " that Jerusalem cannot ever be the capital of a "Zionist entity" that has no legitimacy.
Lebanon has not issued an official reaction to the relaunched peace talks in Washington last week that marked the first direct negotiations in 20 months between Israeli Prime Minister Benjamin Netanyahu and Palestinian president Mahmud Abbas.
They are due to meet again on September 14 in Egypt in a series of meetings to be held every two weeks that negotiators hope will lead to a final peace agreement within a year.
The UN agency for Palestinian refugees (UNRWA) estimates Lebanon today houses 400,000 Palestinians, but Lebanese officials estimate a figure of 300,000.AFP