Lebanon expects 2011 GDP growth of 5%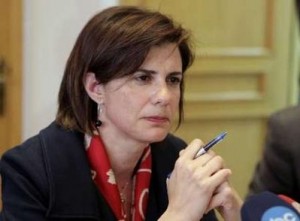 Lebanon's real GDP will grow 5 percent in 2011 while inflation is expected to drop to 2.8 percent by the end of that year, according to draft budget figures released by the finance ministry on Wednesday.
Finance Minister Raya al-Hassan ( pictured) said the 2011 budget projects GDP at around $40 billion, of which $3.8 billion will go to service the country's debt which is expected to reach $55 billion in 2011.
"The 2011 budget has been prepared amid a positive economic situation especially regarding the growth rates," she told reporters after announcing the budget figures. The minister said she sent the budget to the cabinet on Tuesday.
Inflation ranged between 1.5 and 4 percent last year after peaking at 14 percent in 2008. Lebanon remains one of the most highly indebted countries in the world relative to the size of its economy.
The GDP growth of 5 percent foreseen for next year compares with an earlier government forecast for 2010 growth of 4.5 percent. However, the International Monetary Fund said this week it should reach at least eight percent this year, citing domestic stability and prudent policies.
Lebanon's projected deficit is set to increase to $3.6 billion, 8.56 percent of GDP, in 2011 from $3.4 billion in 2010.
"The deficit in 2011 will be bigger than that projected for 2010 because the spending which was expected for 2010 has been delayed."
The 2010 budget, which was not presented to cabinet until April because of wrangling over a possible VAT increase, has yet to be endorsed by the parliament.
"We are lucky though that even with the increase in deficit and a decrease in the surplus we expect the debt-to-GDP ratio to reach 129 in 2011," she said.
Rapid economic growth helped cut the debt-to-GDP ratio to 147 percent in 2009 from around 180 percent previously
Lebanon's economy has largely shrugged off the effects of the global financial crisis and economic downturn largely due to capital inflows, especially from Lebanese expatriates.
Over the last two years Lebanon has been regaining its reputation as the Middle East's playground, attracting Gulf capital to its real estate market and banking sector, which has a tradition of strict banking secrecy.
Hassan said that for the first time Lebanon has managed to decrease the amount of money allocated to service the country's crippling debt.
"This is a very important indicator that we are achieving important results towards fiscal stability," she added.
"The main reason for this drop is the decrease in interest on treasury bonds–this decline in the interest is the result of major inflows which Lebanon has witnessed in the past two years," she explained.
But analysts warn that if the government does not act to cut spending and boost revenues, public debt could increase to as high as $65 billion in the next three to five years with the deficit widening even more. Reuters