Geagea: aoun should reform himself before criticizing others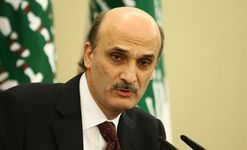 Lebanese Forces leader Samir Geagea attacked Free Patriotic Movement chief Michel Aoun on Wednesday calling his Change and Reform Bloc in parliament the "ruined bloc."
"The biggest threat to the state is that it can't make any defense strategy decision as far as military, or security operations are concerned," Geagea told a delegation from Baskinta in response to Aoun's accusations of violations that allegedly threaten the state.
"I think that one of the blocs was called the Change and Reform bloc and turned into the ruined bloc," the LF leader mocked.
He urged the FPM leader to reform himself before criticizing others.
Geagea also slammed political parties that are allegedly trying to weaken the March 14 forces and reiterated demands to declare Beirut weapons-free.
His comments come after Aoun attacked the government , PM Saad Hariri and the president in a televised speech on Sunday calling for resignations of several ministers. His speech was criticized by many political leaders including the president and the PM.
Aoun repeatedly condemned in his speech the Lebanese authorities over the issue of leaks to the media on the ( Karam) investigation.
"Who is this branch responsible to?… Is Interior Minister [Ziad Baroud] asleep?" he asked.
Retired Brigadier General Fayez Karam,a senior FPM official, was arrested last month and was charged with espionage and providing the Jewish state with information on Hezbollah, Aoun's closest ally.