Hariri: 'We want a moderate state where there is no extremism'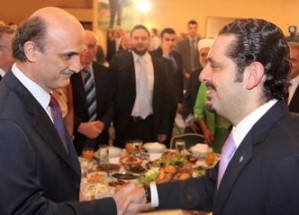 Lebanon Prime Minister Saad Hariri has admitted that the March 14 alliance had unfairly rushed to accuse Syria of assassinating his father and that false witnesses had misled the investigation into former PM Rafik Hariri's assassination.
In his first remarks to the media following the third meeting between him and Syrian President Bashar Assad, Hariri told Asharq al-Awsat newspaper in remarks published Monday that he feels he is going to a friendly country when he travels to Damascus.
He described ties between the two countries as "historic" saying new pages were opened in the relations since the formation of the Lebanese cabinet.
"One has to assess (events) in previous years so that past mistakes are not repeated," Hariri said.
"We assessed mistakes that we made and that harmed the Syrian people and ties between the two countries," the PM told the newspaper. "At a certain stage we made mistakes and accused Syria of assassinating the martyred premier. This was a political accusation."
About false witnesses, Hariri said: "Some people have misled the probe and harmed Syria and Lebanon … They have harmed ties between the two countries and politicized the assassination."
During an iftar in honor of families and figures from the regions of Minieh, Dinniyeh, Koura and Zghorta on Sunday, Hariri called for coexistence under the authority of the state.
Lebanese Forces leader Samir Geagea was a guest of honor at the iftar.
He reiterated that he has been calling since the beginning of Ramadan for the adoption of "calm rhetoric."
"We want a moderate state where there is no extremism. We want a state where every citizen has the right to express his opinion freely without being coerced by anyone," he concluded.