Mitri: Aoun has chosen provocation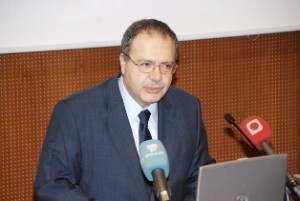 Lebanon's Information Minister Tarek Mitri said in a statement issued on Monday:
"At a time when calm and polite speech is especially important, Free Patriotic Movement leader MP Michel Aoun has chosen provocation against the presidency and the government.
Regarding Aoun's comment that the Information Ministry should guard against rumors, Mitri said that he thinks "Aoun himself does not believe this, especially since he knows well how rumors and talk fly around and are used in politics."
Aoun attacked the government in a televised speech on Sunday and called for resignations of several ministers. He also criticized president Michel Suleiman . "For some time we have been telling the government that it is violating the law, but it is as if they are not listening."
He also asked : "Is President Michel Suleiman doing anything other than weeping, " and added : "He has taken the oath on the constitution and has vowed to preserve it."
Aoun said that the Internal Security Forces (ISF) Information Branch is an "illegitimate branch ", "kidnaps people for months," and "spreads rumors about people."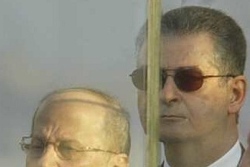 His criticism comes as a possible reference to the branch's August 5 arrest of retired Brigadier General Fayez Karam ( pictured with Aoun) on charges of spying for Israel
Karam who is also a senior FPM official, was charged with espionage and providing the Jewish state with information on Hezbollah.
Aoun repeatedly condemned authorities over the issue of leaks to the media on the investigation.
"Who is this branch responsible to?… Is Interior Minister [Ziad Baroud] asleep?" he asked.
Aoun also said that even though Justice Minister Ibrahim Najjar is responsible for keeping investigations confidential, rumors have spread. He criticized Information Minister Tarek Mitri and Defense Minister Elias al-Murr over the investigations as well.
"Are all these ministers sleeping?" Aoun said, asking, "What are they waiting for to resign?"
Karam and Aoun went into exile in France following Aoun's defeat by the Syrian army in 1990 and both returned to Lebanon in May 2005 , 11 days following the withdrawal of the Syrian army from Lebanon.
Interior Minister Ziad Baroud and Defense Minister Elias Murr were quick to snap back at Aoun, expressing regret that the FPM leader was trying to "bring back political bickering to the Lebanese scene at a time when efforts are made to adopt calm and reject any possible strife."
"All of the Lebanese led by the president are crying in regret over the behavior of some people who are destroying" the presidency, Murr said in a statement.
Baroud, in his turn, said he was "asleep" because there was no electricity. The minister was referring to continued power rationing in the country. Electricity Minister Gebran Bassil is Aoun's son-in-law, and according to energy analysts the blackouts in Lebanon have increased ever since he took over the ministry.
Minister of State Adnan as-Sayyed Hussein told LBC on Monday president Suleiman is concerned with helping Lebanon and not weeping.
"What concerns President Michel Suleiman is not weeping, but how to protect the country, ease people's suffering and achieve the content of the Ministerial Statement." He said