Jumblatt pushing for a Hariri-Nasrallah meeting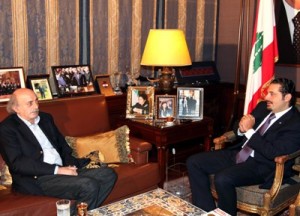 Progressive Socialist Party leader MP Walid Jumblatt has expressed relief at the phone conversation held between PM Saad Hariri and Hezbollah chief Hassan Nasrallah's political assistant Hussein Khalil on Saturday night.
"Thank God they agreed on calm. This is the minimum required," Jumblatt told As Safir newspaper in remarks published Monday. "The biggest need is to consolidate the calm politically ."
"Maybe that would lead to an easing of the tension," he said.
Khalil, has contacted Prime Minister Saad Hariri on Sunday to thank him on behalf of Nasrallah for committing to calm rhetoric, local media reported Sunday.
Hariri's sources did not comment on the content of the phone conversation but said: "We are absolutely committed to calm."
Asked about what role he played to bring the views closer, Jumblatt told As Safir: "I don't care about any role. I care about the result … I still call for not only calm rhetoric but also for viewpoints to meet."
Jumblatt met with PM Saad Hariri at Center House on Sunday night. He was accompanied by Public Works and Transportation Minister Ghazi Aridi.
The two sides discussed the necessity to arrange a meeting between the Hezbollah leader and the prime minister.
As Safir daily said Jumblatt had hinted to some of his parliamentary bloc members that Syrian President Bashar Assad's interference might be required to hold such a meeting.