Gemayel: All militia should be disbanded starting with Hezbollah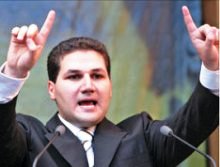 Phalange MP Nadim Gemayel said on Saturday during an interview with Future TV that "all militias should be disarmed in Lebanon, starting with Hezbollah."
"The Lebanese army is the only legitimate power that persists, we want it to be well equipped and deployed throughout the country ," Gemayel said.
Several Lebanese called for a weapons-free and militia free Beirut after the bloody street battle that shook the Borj Abi Haidar neighborhood in the Lebanese capital on August 24, pitting supporters of the Iranian backed Hezbollah against the pro-Syrian Al-Ahbash militants —also known as the Association of Islamic Charitable Projects. 3 people were killed in the clash including a Hezbollah senior official.
Many analysts branded the clash as a proxy war between Iran and Syria over the control of Lebanon.
March 8 MPs are opposed to the idea have said that such slogans aim to incite sectarian tension and that the weapons proliferation issue is being used against the Resistance.