Israelis, Palestinians to meet every 2 weeks
Israeli and Palestinian leaders have agreed to meet every two weeks during the coming year to work out parameters for a peace agreement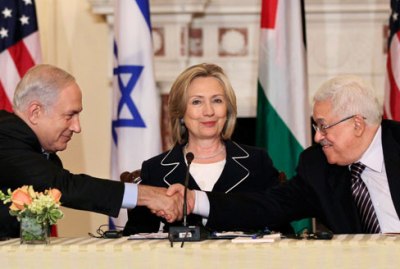 By GLENN THRUSH & LAURA ROZEN
At their first direct talks Thursday, Israeli and Palestinian leaders have agreed to meet every two weeks during the coming year to work out parameters for a peace agreement, Middle East peace envoy George Mitchell told journalists Thursday.
"The parties themselves have suggested and agreed that the logical way to proceed is to try to reach a framework agreement first," Mitchell told journalists at the State Department Thursday, defining it as "not an interim agreement and more detailed than a declaration of principles but less than a full-fledged treaty."
Secretary of State Hillary Clinton and Mitchell will attend the next set of talks in the region on Sept. 14-15, Mitchell said. In the future, the U.S. will attend some of the talks, if not all of them, he added.
Israeli Prime Minister Benjamin Netanyahu and Palestinian Authority President Mahmoud Abbas were still holding direct face-to-face talks Thursday when Mitchell gave journalists a brief readout.
Mitchell said that first the full American, Israeli and Palestinian negotiating teams met this morning, followed by a meeting including only Clinton, Mitchell, Abbas and Netanyahu. Later, Abbas and Netanyahu held a one-on-one session, while their advisers met simultaneously.
Mitchell would give few details on the substance of what was discussed, including on whether the subject of Israeli settlements came up. He also said the talks this morning focused more on process than substance.
"In terms of the process going forward, that will be resolved by the parties," Mitchell said. "You cannot separate process from substance. We have had extensive discussions with them on that and those will continue. Our goal is to resolve all of the core issues within one year."
It was the latest development in a day that began with Clinton delivering a Foggy Bottom pep talk but warning that the U.S. won't "impose a solution" on parties deeply divided over the issues of Israeli settlements on Palestinian land and Hamas attacks on the Jewish state.
Clinton didn't soft-pedal the troubles that lie immediately ahead — especially the opening dispute over the lapsing Israeli moratorium on settlers building new homes in the West Bank — but suggested the willingness of Israelis and Palestinians to risk talks amid widespread pessimism was in itself a reason for guarded optimism.
"To those who criticize this process, who stand on the sidelines and say 'no,' I ask you to join us in this effort," said Clinton, speaking at the kickoff of talks in the State Department's Benjamin Franklin Room, flanked by Netanyahu and Abbas.
But Abbas quickly outlined the challenges, calling on Israel to "end all settlement activities and end the embargo in the Gaza Strip," two issues that Palestinian negotiators consider nonnegotiable.
An emotional Netanyahu then decried the "blood of innocents" shed in a Hamas attack that killed four settlers earlier this week and pleaded for Hamas to end assaults that have launched 12,000 rockets on Israel and killed scores of civilians. But he turned to Abbas, sitting on the same dais.
"President Abbas, I'm fully aware [of] and I respect your people's respect for sovereignty [and] I'm convinced that it's possible to reconcile that desire [with] Israel's need for security." He concluded with a trilingual incantation: "shalom, salaam, peace."
At Thursday's press briefing, White House press secretary Robert Gibbs told reporters the president was encouraged by the "very serious attitude both leaders brought" to the table. Nevertheless, he added, "there are still deep divisions. There are still years of mistrust to overcome."
Middle East analysts observed telling signals in the language the American, Palestinian and Israeli leaders used — and omitted — which seemed to signal an Obama administration tilt toward Israeli demands for security. Specifically, there will be no preconditions to the direct talks, and the U.S. will not impose its version of a peace plan on both sides if the talks run aground.
"Note that Obama declared that the U.S. would be a 'participant' rather than a facilitator" in the peace process, a former senior U.S. official told POLITICO. "But he did not enumerate the final-status issues that would have to be dealt with. Hillary did in her remarks today, but she did not refer to the 'territory occupied in 1967.'"
What did Obama get in exchange for a perceived tilt to Israel's conditions for the talk? Perhaps a more moderate Bibi, analysts suggested.
"I thought Bibi's remarks were quite statesman-like," the former senior U.S. official said. "Especially the recognition that there is another people with whom the Jews must share the land and his designation of Abu Mazen (Abbas) as his peace partner."
Abbas, for his part, referred repeatedly to international law and past peace agreements and commitments, which he said the Palestinians had fulfilled — implying the Israelis had not done their part by halting settlement construction in the West Bank and East Jerusalem.
If the opening speeches were sober — and reflected "summit fatigue" after two decades of halting progress toward solving the seemingly intractable conflict — the body language among the participants Thursday was not. After their speeches, Abbas and Netanyahu shook hands, smiled and exchanged small talk, as Clinton beamed.
Abbas even flashed a quick thumbs-up to Netanyahu.
Earlier, in a pointed challenge to Syria and Iran — avid supporters of the Palestinian people not represented at the talks — Clinton called out to the "voices in the region who insist that this is a top priority and yet do very little to support what would actually bring about a Palestinian state." She said, "Now is the opportunity to start to contribute to progress. … It will get no easier if we wait."
All parties have downplayed the likelihood of quick negotiations. Netanyahu proposed that this week's summit, which includes President Hosni Mubarak of Egypt and Jordan's King Abdullah, be the first step in a yearlong process.
But the Israeli leader, who faces enormous pressures back home to deal with a stubbornly violent Hamas in Gaza, was in an accommodating mood.
"I'm prepared to walk this road and to go a long way — a long way in a short time — to achieve a genuine peace that will bring my people security, peace and good neighbors," he said.
The meetings are taking place in Clinton's outer office. There is the prospect of additional side meetings while the delegations are here, State Department spokesman P.J. Crowley said. At the end of the talks Thursday, Middle East peace envoy George Mitchell will provide a readout to the press.
Wednesday night, at a small working dinner hosted by President Barack Obama, Netanyahu said, "President Abbas, you are my partner in peace."
"It is up to us, with the help of our friends, to conclude the agonizing conflict between our peoples and to afford them a new beginning," Netanyahu said.
Abbas, in turn, said the "time has come for us to make peace," adding, "We will spare no effort and we will work diligently and tirelessly to ensure that these negotiations achieve their goals and objectives in dealing with all of the issues."
Obama said he was "hopeful — cautiously hopeful — but hopeful."